SWOOD simplifies workflow through SWOOD Connect
&nbspWednesday, June 14, 2023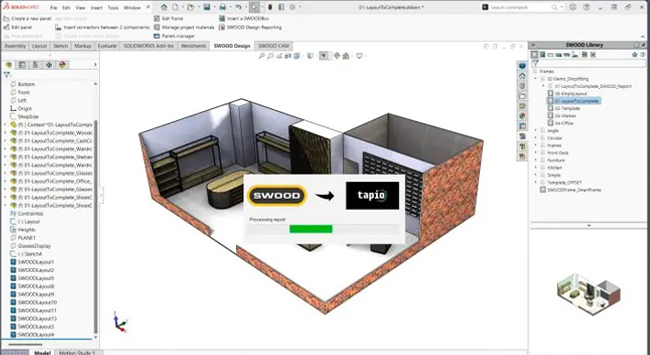 SWOOD is always concerned about flawless workflow. You can now simplify your solution through outstanding offering of SWOOD Connect that is integrated with tapio Export (Homag) features.
Isn't it amazing?
What are the integration solution?
No matter how big or small the organisation, information communication is essential to the woodworking process in the 4.0 sector. It should be kept simple and logical throughout the entire procedure. Users can simply connect the two thanks to a technology offered by SWOOD called tapio Export in SWOOD Connect that enables smooth connection with HOMAG's digital products.
SWOOD Connect: What is it?
By giving SWOOD users a variety of options that make it simple to import and export data to and from external systems, SWOOD Connect enables SWOOD users. It is, in a nutshell, a technology that makes it possible to move data to and from other platforms. It provides users with a consistent and lightweight solution from a single source and allows a seamless data interchange between SWOOD and HOMAG digital solutions using tapio as infrastructure.
How does tapio and SWOOD interact?
SWOOD CAD/CAM projects are linked to HOMAG's digital solutions through the new interface, "SWOOD Connect – productionManager," which is more specifically the digital job folder. Users can move their entire project from SWOOD to productionManager with just one click, including project data, nomenclature, BOM, and drawings.
All project-related information is constantly accessible during production and assembly after the project is formed in productionManager. For instance, the project can be forwarded to HOMAG's optimisation tool "intelliDivide cutting" once it has been approved for production.
How do you utilise tapio and SWOOD Connect?
It is simple to use SWOOD Connect with tapio. Depending on their demands, users can rent the "SWOOD Connect – productionManager" interface from the tapio shop either monthly or yearly.
The user can copy the special access code from the interface and paste it into SWOOD after signing in to their tapio account. Without additional software configuration or contact with software suppliers, the data interchange between the two software solutions will operate without a hitch.
SWOOD integration offers a flexible and efficient workflow for all kind of woodworking companies.
Read more news on SWOOD
Tags: digital solutions, homag, Industry 4.0, integration solution, intelliDivide, Production Manager, software configuration, software solution, SWOOD, SWOOD Connect, tapio, tapio Export, woodworking industry