Altendorf Group initiates Qualification Opportunities Act
&nbspMonday, December 26, 2022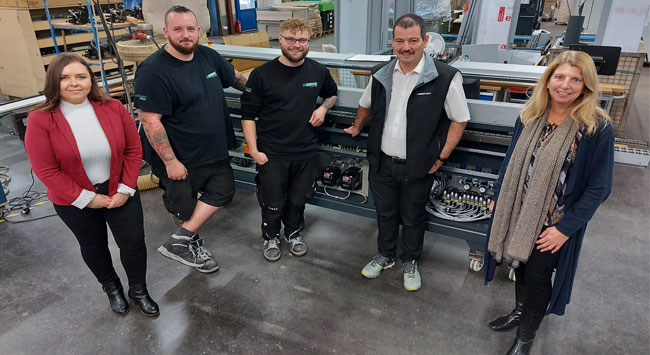 In a great illustration of how age is simply a number, Steven Muller, a helper at the Maschinenbau Hebrock GmbH in Hüllhorst, opted to resume his vocational training. Thanks to the funding opportunities of the Qualification Opportunities Act, he doesn't even have to worry about any financial loss. He approached his employer, Maschinenbau Hebrock in Hüllhorst, Germany, with the desire to catch up on his vocational qualification as a precision mechanic specializing in mechanical engineering.
Natalia Kunkel from the Employer Service reports: "The Qualification Opportunities Act makes it possible to promote employees, and especially in the case of degree-oriented measures, at interesting conditions. During the retraining, Steven Müller continues to receive his salary. Hebrock receives an allowance for the loss of working hours due to the training. In addition, retrainees, including Mr. Müller, receive a bonus of 1,000 euros after passing the intermediate examination and another 1,500 euros after passing the final examination." A circumstance that made the vocational qualification possible for Steven Müller in the first place. "Anything else would simply not have been financially feasible," he emphasizes.
"Win-win situation"
Gerald Steffen knows the problem of the shortage of skilled workers only too well, so he wants to do everything he can to qualify employees and also retain them. So the opportunity to train a well-known, reliable employee to become a skilled worker is a tremendous advantage.
Positive influence on the workforce
The facts show that something like this can have a positive impact on the entire workforce: After Steven Müller started his retraining in 2020, another employee started retraining at Hebrock this fall after following the success of Steven Müller's training. Steffen emphasizes that he can only advise other companies to take advantage of such qualification opportunities for their employees: "We are now almost all familiar with the shortage of skilled workers. Dual training is important, but not the only building block for solving this problem. One should use such offers, because: It motivates employees, and as a company you already know from past collaboration which employee you're going for."
Read more news on Altendorf
Tags: altendorf, Altendorf Group, degree-oriented measures, Hebrock, Qualification Opportunities Act, training, wood, woodworking, woodworking and manufacturing, woodworking event, woodworking industry, woodworking UK