Altendorf Group to celebrate "Power of Partnership" at LIGNA 2023
&nbspTuesday, May 2, 2023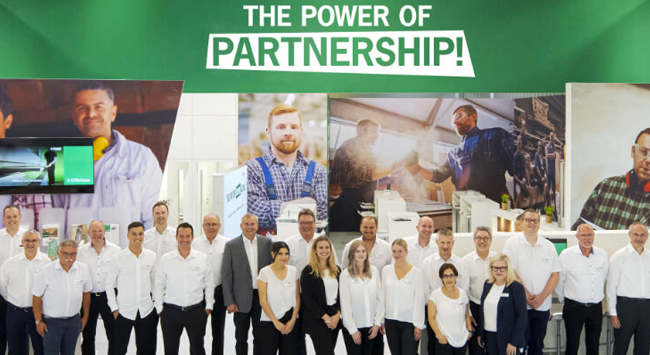 Under the motto 'Power of Partnership', Altendorf Group will be displaying their latest at LIGNA where customers can learn about all aspects of a successful partnership and discover high quality products and services on more than 600 m². The Altendorf Group believes that working closely with partners and customers to develop long-lasting strong partnerships is foundational to success, and hence aims to be customer-centric.
The Altendorf Group is determined to be customer-centric and working closely together with partners and customers in long-lasting strong partnerships. "We believe that one person can accomplish a lot, but together we are stronger and benefit from each other's knowledge. Together, or "Gemeinsam und Zusammen" as we say in German."
Power of Partnership
The last years have seen great developments in many areas at the Altendorf Group. At this year's LIGNA exhibition, the Altendorf Group will showcase how this new company performance forms a new era of work safety, product performance and customer service. The POWER OF PARTNERSHIP unites all these aspects to support our partners and customers creating successful and long-term business relationships.
Vit Kafka, CSO of the Altendorf Group is looking forward to presenting the POWER OF PARTNERSHIP at the LIGNA show: "A lot of great achievements have happened at the Altendorf Group to make the work of our partners and customers even more efficient and successful. At this year's LIGNA, we want to show them the new Altendorf era of safety, performance, service and how it can contribute to our common success together.
Product-Highlights
Visit Altendorf Group at Hall 12, Booth no. D16, to learn about all aspects of a successful partnership and a shared vision of the future. Experience numerous product highlights, including:
HAND GUARD, the world's first and only AI- and camera-based safety assistance system for sliding table saws
The new "next" series of Hebrock edgebanders
The well-known F 45 sliding table saws in a multitude of configurations
The new F 35 sliding table saw
The myALTENDORFGROUP Service App
Tags: altendorf, Hannover, sawblade, Vit Kafka, wood, wood and panel, woodworking, woodworking and manufacturing, woodworking and processing, woodworking event, woodworking industry, woodworking tools, woodworking UK