Accelerate performance with automated handling solution from IMA Schelling
&nbspMonday, June 19, 2023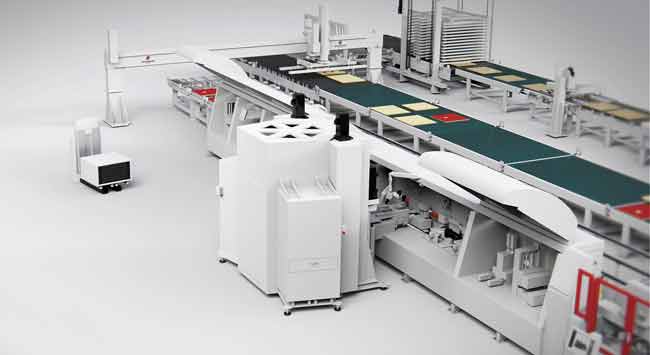 IMA Schelling recently devised a solution that enables the automated handling of edge materials, which conserves manpower and increases reliability. Now, with the latest automatic edge handling that reduces complexity and leads to greater flexibility as it can be used for single machines through to batch size 1 production
Join edges fully automatically: IMA Schelling has developed a new, highly efficient system for automated edge handling that can be used for single machines through to batch size 1 production.
Companies with a wide range of different edge materials are already familiar with this situation: the edge magazines are extremely large, materials with a wide range of properties have to be conveyed through the edge shafts and numerous manual steps are required in the case of the hold-down devices, for example. This is not only complex, but also prone to error. The development engineers at IMA Schelling have devised a solution that enables the automated handling of edge materials, which conserves manpower and increases reliability.
Up to 102 edges within easy reach
"Our edge handling system is a separate unit placed next to the machine," explains Dennis Reddig, Product Manager Edge Processing at IMA Schelling. "It can stockpile 102 edges within easy reach of the machine." Despite the enormous variance, it manages with a single edge shaft. This is made possible by an extremely dynamic system combined with the use of edge cassettes. These cassettes can be equipped with all common types of edges.
The edge handling machine supplies the edging machine with the necessary edges. It consists of three components:
In the cassette tower, the cassettes whose edges are currently being machined are made available.
Up to three magazine towers hold max. 90 cassettes. For both units together, this totals a maximum of 102 edges.
The control unit is the link between the cassette tower and magazine towers and provides the former with the currently required cassettes and removes those that are not required.
"Our handling system increases the process reliability and availability of the edge-joining area and therefore contributes to increasing the overall plant performance," explains Reddig. Continuous process monitoring makes unique identification and inventory management of the edge materials possible at any time. "We therefore offer a modular, scalable unit that can be tailored to individual customer requirements."
The good news for existing customers is that it's not only new machines that can be equipped with the edge handling system from IMA Schelling – it can also be integrated into existing machines as part of modernisation works.
Connection to handling and logistics system
The experts at IMA Schelling have also created concept proposals for the fully automated feeding of edge cassettes. With the line buffer model for example, the cassettes are stored above the production line. Storage capacity is accessed with the central warehouse option and the AGV concept uses driverless transport systems and permits the stacking of edge cassettes.
Read more news on IMA Schelling here.
Tags: edgebander, Edgebanding, wood, wood and panel, woodworking, woodworking and manufacturing, woodworking event, woodworking industry, woodworking UK