Ground breaking woodworking solution from Tilly Holzindustrie
&nbspWednesday, September 20, 2023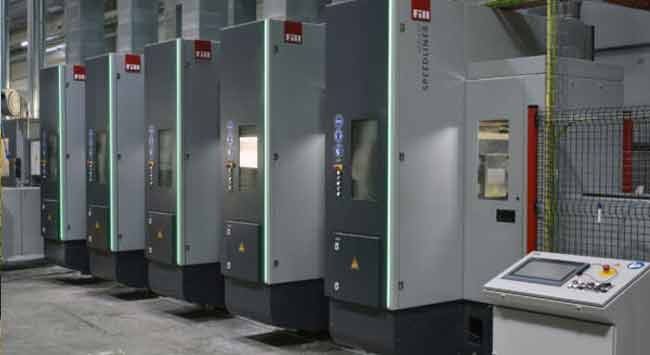 Tilly Holzindustrie is one of the world's leading manufacturers of one and three-layer natural wood panels. Surface layer lamellae are produced with highest levels of automation in a system featuring five high-performance fine-cutting SPEEDLINER 920/350 bandsaws from Fill. The total solution offered from a single source and created in close consultation with the customer ensures extremely productive lamella production with maximum cost-effectiveness and flexibility.
Highly efficient production
Fill planned and delivered a complex system providing fully automated production of the three-layer lamellae from the stack of sawn timber through to the finished lamella packs. The first step in the production process involves unstacking the boards and collecting the stacking strips. This is followed by curvature and moisture measurement, metal detection, ejection of unsuitable boards,and optimized alignment for further processing. Then a planing machine planes the timbers to the set dimensions. "Five high-performance thin-cutting SPEEDLINER 920/350 bandsaws cut the boards into individual lamellae at speeds of up to 40 m/min, leaving a kerf of only 1.1 to 1.6 mm. This guarantees maximum material utilization with minimal waste. After passing through a quality scanner, the lamellae are sorted by quality and stacked into transportable packs," explains Andreas Kopfberger, project manager at Fill. The lightweight lamellae must not be damaged when transporting them at speeds approaching the physical limits of up to 350 m/min.
Comprehensive control and information technology
The separately controlled system parts upstream from the bandsaws, the bandsaws with joining module, and the sorting unit all communicate with each other. Together with additional facilities for measurement and quality inspection, they supply their data to CYBERNETICS PRODUCE. The applications of this Fill solution for linking multiple machines or systems enable seamless recording and storage of relevant process parameters for efficient operation and reliable component traceability. Thanks to the bidirectional connection to the customer's ERP system, the entire system can adapt fully automatically to the circumstances and carry out a complete product changeover within ten minutes. Tilly-Production Manager Ing. Philipp Wallgram appreciates the clear, carefully considered operating concept of the machines from Gurten, which ensures straightforward and reliable operation, also with few personnel.
Tags: Tilly Holzindustrie, wood, wood and panel, wood based panel, woodworking, woodworking and manufacturing, woodworking and processing, woodworking industry, woodworking UK