Cursal brings ground breaking solutions
&nbspMonday, October 9, 2023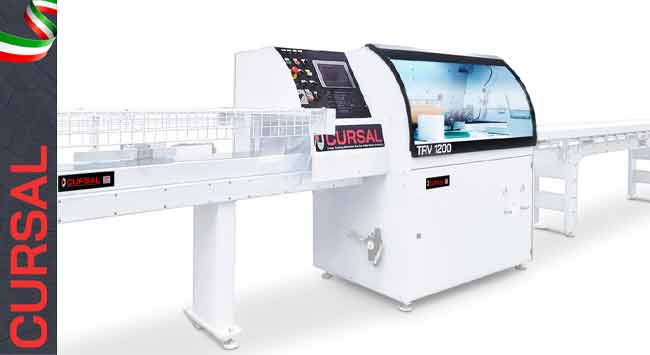 With expertise in woodworking and manufacturing software domain Cursal brings ground breaking solutions for small and medium size companies.
The ideal optimizing saw for small and medium sizes.
– Full optimizing with quality defects selection
– Defecting
– Fixed measures sequences.
• Optimized in an ultra – fast and intelligent way, and you will process the most various orders without any stress for the operators. TRV 1200 permits you to cut single rude/painted boards with continuous cycle in a practical and functional way.
Once inserted the cutting lists by the touch-screen (or from the office) and selected the type of optimization you prefer, TRV 1200E operates autonomously:

Advancement and positioning

Instant data transmission to the CN and optimization processing

Quality,lenghts, widths selection (*)

(*) check Cursal accessories
• Maximum speed (it's the fastest of its category, autolimited to 195 m/min with Brushless servomotor) and high accuracy are guaranteed by the synergy of a performance optimizer, an indestructible structurally body machine and an effective board control (matched to an exclusive motorized and precise belt by CNC/axes in pressure pneumatic wheels for a universal use).
• TRV 1200 is a synonymous of versatility, used for different processes from recoveries, the cleaning of the defects, or, use the optimizer potential for more specific and complex works, where a high level of software processing is required.
Software programmation:
More than 100 cut levels: lenghts x quality
Choice of optimization: Per commercial value – Per waste pieces – Per quantity – Per lenghts – mixed optimization
Optimization simulation
Monitoring of worked pieces
Internal body machine optimization: simplification of the process + space recovery
Tags: wood, wood and panel, woodworking, woodworking and manufacturing, woodworking and processing, woodworking industry, woodworking UK