VOLLMER brings grinding that makes life easy at LIGNA.23
&nbspWednesday, May 31, 2023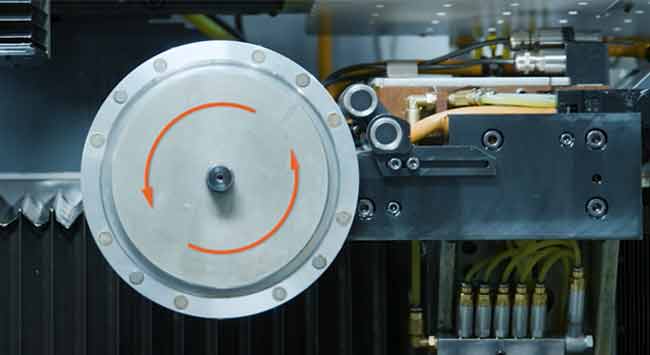 Grinding process is now made simpler with the latest addition by VOLLMER as they showcased the first of its kind precision grinding of circular saws for saw mills recently at LIGNA.
In saw mills, circular saws are indispensable when it comes to cutting wood on chipping and profiling lines. Sharpening specialist VOLLMER has designed its CS 860 and CSF 860 grinding machine duo specifically for grinding these carbide-tipped circular saws. They have R2 axes for axial lateral adjustment, centre brakes for an opening blade clamping mechanism and co-rotating mounting systems to protect clearing blades. Saw manufacturers, sharpening services and saw mills use this pair of machines from VOLLMER to manufacture or resharpen different circular saws safely and precisely, without manual intervention and around the clock.
In saw mills, the cutting edges of carbide-tipped circular saws must have a perfect geometry, surface and edge to optimally cut logs on chipping and profiling lines at feed rates of 250 metres per minute. And that's not all – the saw blade must be very rigid if the kerf is to be as thin as possible. Saw manufacturers therefore rely on bores with keyway or spline to effectively transfer high torsional forces from the shaft to the saw teeth. Internal clearing blades ensure that the huge amounts of sawdust are removed from the kerf and that the heating of the saw blade is kept within limits.
Saw manufacturers, sharpening services and saw mills can use the CS 860 and CSF 860 duo to sharpen both the tooth faces and tooth tops as well as the flanks of saw teeth in a single set-up. The machines automatically detect the geometry of a saw tooth and grind it precisely to the required size. The grinding machines automatically detect newly inserted teeth and machine them to size using oscillation. The feed pawl registers broken teeth in order to prevent the grinding wheels from breaking and determines the tooth pitch. This means that it is not necessary to enter this manually and prevents operator errors. In addition, the VOLLMER machines are networked via the standard IoT gateway (Internet of Things) and record all operating and machine data in order to determine the machine utilisation in real time, for example.
"We have specifically developed the CS 860 and CSF 860 to meet the strict requirements of saw mills," says Thomas Wenger, Product Manager at the Biberach-based VOLLMER Group. "Thanks to the wide-ranging machining scope of the machines, as well as their high flexibility and productivity, we have come up with a real innovation in the global grinding technology market."
Tags: circular saw, grinding tools, VOLLMER Group, wood, wood and panel, woodworking, woodworking and manufacturing, woodworking and processing, woodworking event, woodworking industry, woodworking UK