Sonae Arauco all set for SICAM 2023
&nbspFriday, September 22, 2023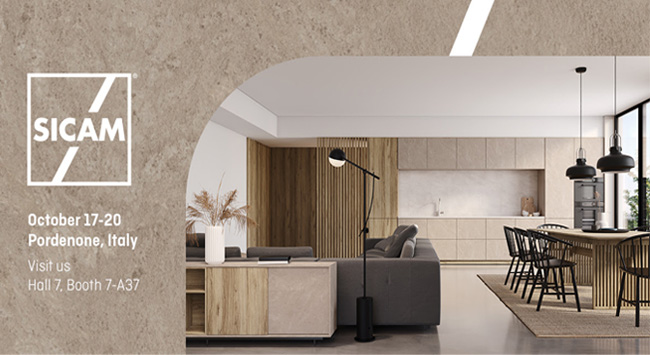 Sonae Arauco is all set for the awaited SICAM 2023 that is one of the ultimate event for materials and design. Visitors can visit the company's booth to see the decor solutions that will be showcased. Sonae Arauco will be there at Hall 7 Booth 7-A37 to welcome all the interested visitors.
The company is about to make the best use of the opportunity to showcase and promote one of its best Innovus Collection – Matching our nature collection. This innovative collection comprises 220 decorative solutions and over 40 new decor innovations. This include woods such as Karlstad Oak, Fantasies such as the textile Canasta or the stone decor Fossil Brown. When combined with the Innovus premium textures, they create an impressive authenticity. Considering the challenges of the future and the growing need to reconnect with our nature, Innovus® goes back to the roots and reminds all about the importance of having authentic and sustainable designs that fuel a sense of wellbeing. This collection inspires creativity while offering versatile and contemporary solutions for interior spaces. This streamline collection creates a desire to embrace a slower style of living, where simplicity and beauty are surrounded by tactile elements.
The collection offers a complete decorative range for smooth match with ever-evolving design needs. All decors are available in decorative panels and laminates. It is a sustainable collection that is produced with sustainably sourced and recycled wood. The range gives a space timeless appeal with an attractive look.
At SICAM, International Exhibition of Components, Accessories and Semi-finished Products for the Furniture Industry, one can find all the product novelties and market trends for future collections of furniture, kitchens, bathrooms, contract and interior design. Visitors attending the event can see and touch the materials and mechanisms while communicating with the exhibitors. Sonae Arauco, one of the best producers of the wood based solutions, is also carrying the best decors solution to the event to exhibit its best before the visitors.
Tags: Sonae Arauco, wood, wood and panel, woodworking, woodworking and manufacturing, woodworking and processing, woodworking event, woodworking industry, woodworking UK