HOLZ-HER premieres new 5-axis CNC EPICON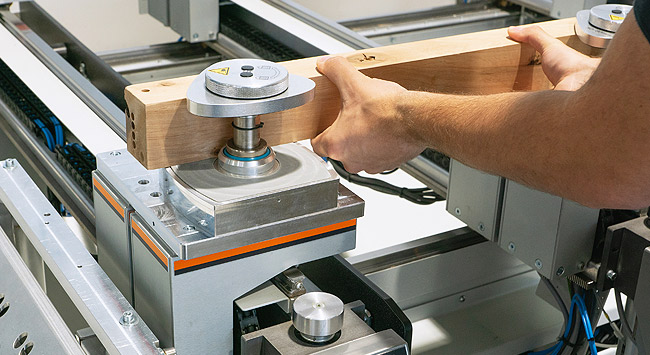 The EPICON series with 5-axis milling spindle is the new flag ship among HOLZ-HER console machines. The traveling stand used for the solid gantry design has two synchronous drives for maximum precision, allowing simultaneously extreme acceleration and milling speeds. The extreme machining height of 300 millimeters from the top of the suction cups with a generous Z stroke of 565 millimeters offers sufficient clearance for even complex workpieces. These are the perfect features for producing large to middle size stairs, windows, doors or panels with maximum precision and repetition accuracy.
The EPICON can be equipped with a variety of automatic tool options for highly varying applications. These include the traveling tool changers for 18 or 24 tools, which guarantee short clamp-to-clamp times when changing tools. Particularly the 5-axis technology using saw blades offers enormous possibilities. For this purpose the EPICON is also available with a traveling changer for saw blades with diameters up to 350 millimeters. The lateral, linear changer for 14 tools offers even more space for additional tools. And regardless of what is being machined, the optional chip conveyor integrated into the machine stand reliably transports even large quantities of chips to the evacuation unit.
For maximum flexibility, the EPICON can also be equipped with various machine tables.


The synchro-drive table moves all consoles and suction cups fully automatically in seconds and with maximum precision to the positions specified in the software or by the operator. Specially developed suction cups for solid wood and special materials are ideal for machining operations requiring extreme holding forces.
The EPICON 7235 can also be equipped with the newly developed VISE LED table with its unique advantages. At HOLZ-HER, VISE stands for Visual Setting, providing visual support for the machine operator when setting up the machine.
The console positions calculated by the control as well as the recommended suction cups are displayed to the operator by colored LED strips. A matching color code accentuates and clearly visualizes the type of suction cup. Another highlight of the VISE LED table is its exact display of the angle of rotation for rotating suction cups. The angle can be read off easily on the scale in 15 degree increments and the rotation can be transferred to the suction cups. This makes positioning the suction cups child's play even when free forming. For frequently recurring parts, it is possible to save the suction cup position together with the workpiece.
With the new EPICON series, CNC machining has never been more flexible, opening new horizons for implementing your creativity.
Tags: 5-axis CNC machines, CNC machines, EPICON, Holz-Her, LDD, LIGNA DIGITAL DAILY, LIGNA.IN, LIGNA.Innovation Network, woodworking and manufacturing, woodworking and timber processing industry, woodworking event, woodworking industry

Read Magazine Online