Wood-Mizer brings innovative sawmilling solutions at LIGNA
&nbspWednesday, April 12, 2023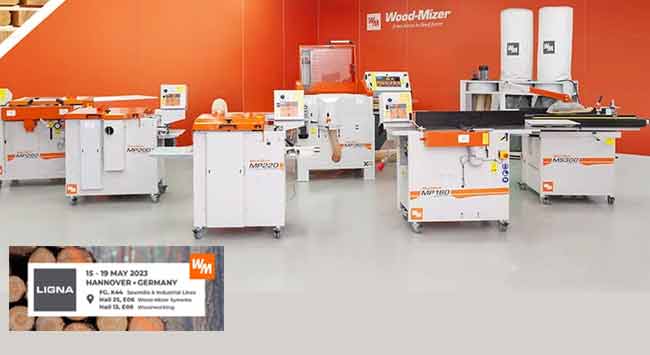 Wood-Mizer is gearing up to present its latest sawmills and woodworking machines at LIGNA. Innovations will include large and medium sawmills, small businesses, farmers, artisans, and hobbyists.
The pandemic years without exhibitions have been a time of intense work for Wood-Mizer's R&D group, resulting in a range of new machines, features, and solutions to improve overall usability and increase wood processing efficiency. Now it's time to present these innovations to the public during Europe's largest wood industry trade show, LIGNA, from May 15 to 19, in Hannover, Germany.
In the open area FG (stand K44), Wood-Mizer will exhibit the LX and LT sawmill series in action and a full line of EG edgers, starting with the small EG100 and the popular EG300 edger/multirip. A new WIDE head option to cut large-diameter logs will be demonstrated on the LT20 WIDE and LT15 WIDE sawmills. Europe's most popular LT15 sawmill with a segmented bed will be displayed in a mobile version.
The smallest Wood-Mizer LX50 sawmill, designed for homeowners and hobbyists, will be displayed in two versions. In addition, there will be new machines for processing slabs – the LX250 wide slab sawmill capable of cutting massive slabs up to 138 cm wide, and the MB200 SlabMizer that efficiently surfaces and flattens slabs up to 142 cm wide with minimal labor. The famous LT40 and LT70 sawmills in WIDE versions will also be displayed in the Wood-Mizer area.
Responding to the needs of high-performance wood processors, Wood-Mizer will present two types of industrial sawmilling lines. The first line is designed to process a large timber volume and is based on the well-known WB2000 industrial sawmill, using a band blade of 50-75mm width. At LIGNA, the WB2000 sawmill will be equipped with a new state-of-the-art control station, log loading, and material transporting system, and at the end of the line, exhibiting for the first time, the MR200, an industrial double arbor multirip with up to 12 circular blades at each shaft, capable of sawing timber up to 200 mm thick.
The second Wood-Mizer industrial sawmilling line at LIGNA is designed to process logs into pallet boards and other timber. The machines in that line are the TVS HEAVY DUTY twin vertical saw with a new control station, a log loading deck, material sorting equipment, the industrial HR700 horizontal two-head resaw, and the powerful EG800 edger for slab processing.
Wood-Mizer will also showcase its newest, most advanced heavy-duty solution for the sawmilling industry – the EA3000 Transverse Edger, a part of Wood-Mizer Systems. It will be an outstanding opportunity for the visitors to research the topic of custom-designed sawmilling lines.
Tags: europe, ligna, sawmilling, wood, WoodMizer, woodworking, woodworking and manufacturing, woodworking and processing, woodworking event, woodworking industry, woodworking UK