Jowat celebrates outstanding success
&nbspFriday, June 9, 2023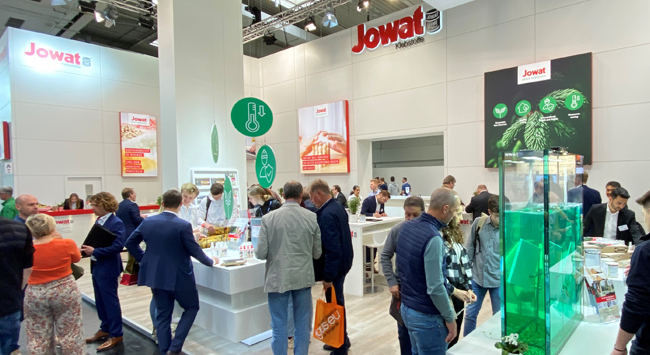 The adhesive producer Jowat had a great show at the international fairs LIGNA and interzum with their impressive range of sustainable adhesives. The company introduced the green adhesives before the guests and peers leaving them all impressed. The all-round, no-hassle package of Jowat's Green Adhesives provided solutions for the central topics at the trade fairs: sustainability, climate protection and conservation of resources.
Green Adhesives-
The key topic of these international fairs was 'Sustainability' in all form. The wood working industry is now looking forward to a working system that will be efficient and sustainable from start to end. Jowat, thus focused on the portfolio of sustainable and trailblazing products optimised for processors and bonding applications in the production of furniture and building elements. The visitors at the fair were exclusively interested in the new bio-based PUR hot melt adhesive Jowatherm-Reaktant GROW 657.40 for edgebanding and the biobased PVAc dispersion adhesive Jowacoll GROW 105.85 for solid wood bonding and laminating. The presence of high amount of bio-based raw materials of more than 20% and their efficient performance left an impact on all. Jowat's Jowatherm GROW 853.22 for the sustainable packaging of furniture components, interior doors and engineered wood or laminate flooring also attracted the visitors. The bio-based hot melt adhesive couples a high content of renewable raw materials of more than 50% with high cold resistance and a very wide range of adhesion. The other agenda that the visitors carried to the fairs was the rising need for occupational safety. Keeping this fact in consideration Jowatherm-Reaktant MR product line currently supplies a broad spectrum of powerful adhesives that are hazard-free which enables processors to efficiently avoid the additional training requirement that is mandated by law within the European Union.
Andreas Weymann, head of Global Product Management at Jowat SE pointed out, "Our Green Adhesives facilitate sustainable bonding processes that are already economically viable as of today. Jowat always develops these adhesives with a focus also on real-life applications and industrial-scale availability. In terms of performance, our Green Adhesives are on par with their conventional counterparts and can fully convince in the industry." Rightly, Jowat experienced ultimate success at the fairs as the company could convince the visitors with their process-optimized low-temperature adhesives.
Tags: Interzum, Jowat, Jowat SE adhesives, ligna, wood, wood and panel, woodworking, woodworking and manufacturing, woodworking and processing, woodworking event, woodworking industry, woodworking UK