NanoSkin ends all hydra woes for wooden surfaces
&nbspTuesday, June 20, 2023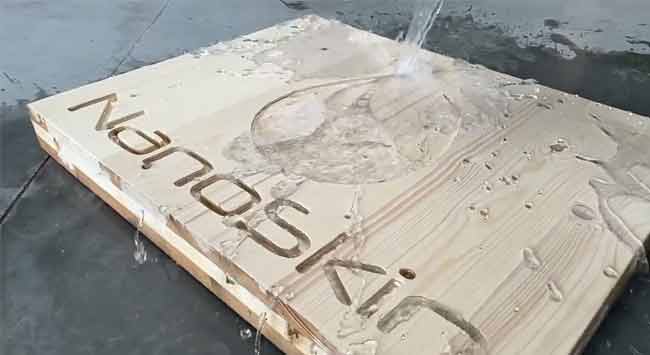 Challenges of wooden surfaces against moisture and water flow now ends with the latest innovation from NanoSkin. Solutions to nanotechnology based coating leads to high-performance nano coatings for all materials. Nano technology has been around for a long time, and it is used in every sphere of life from motorcycle helmet visors, car bodies, or all-weather clothing, to wood surfaces. The latest technology makes NanoSkin suitable to cross laminated timber and is used perfectly in mass timber sector. Nanoskin Wood is a nanotechnology based coating specially designed for the treatment of wood. The coating is made from silicon dioxide and is fully water based. NanoSkin Wood is used to protect untreated, raw wood.
NanoSkin, remains compatible with other products and it serve as a permanent water- and dirt-repellent finish (while retaining its hydrophobic properties for years) or as temporary protection when recoated with paint, stain, varnish or even a fire retardant afterwards. Nanoskin Wood is designed to make all kinds of wood water repellent. This makes this product extremely suitable for chalets, gates, facades, etc. Some types of wood (merbau, oak, robinia, and meranti) contain substances that, when in contact with the coating, can react ('bleeding', discolouring) and therefore don't obtain the desired effect.
From a thickness of approx. 0,5 mm, wood can be treated with Nanoskin Wood. Veneer wood is also treatable and achieves the same desired results. Already treated or weathered wood must first be sanded before the coating can be applied. Otherwise the desired result might not be realised. After applying Nanoskin Wood, the wood acquires a super hydrophobic character, which can be observed when water is poured over the surface. This will result in a pearling effect of the water. Because of this hydrophobic characteristic, Nanoskin Wood offers optimal protection against water, moss and dirt. This will make it more difficult for them to adhere to the treated surface. There will also be less need for maintenance, which will save more costs. After treatment, the wood will continue to breathe and retain its natural appearance. In other words, the wood texture is preserved, the coating does not peel off and the wood will still grey. The coating is completely transparent and colourless.
Tags: hydrawood, ligna, NanoSkin, wood, wood and panel, woodworking, woodworking and manufacturing, woodworking and processing, woodworking event, woodworking industry, woodworking UK