Biele presented path breaking EVO technology at LIGNA.23
&nbspMonday, July 3, 2023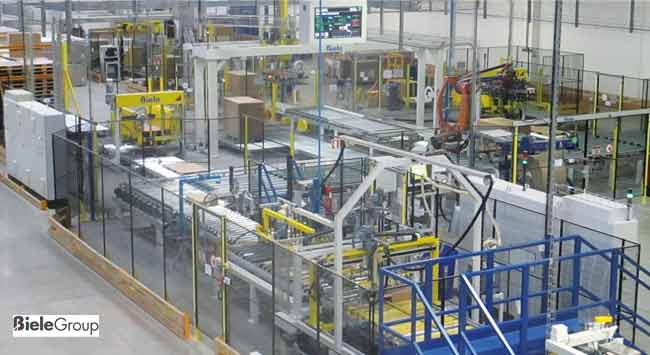 Biele Group, recently introduced its newest EVO technology to the woodworking industry at the LIGNA.23 in Hannover, Germany.
Having been used for more than 15 years in multiple applications and sectors, the new generation of EVO's becomes a very flexible tool, used for feeding, stacking and conveying all in one, with high speeds (500 FPM) and accurate stacking and conveying capabilities, providing more than 40 cycles per minute.
This year the focus was on the two megatrends of sustainability and digitisation.
According to these trends, Biele has introduced its latest innovations for the woodworking industry, specially focused on:
Lay-up and Press lines
Finishing Lines
Packing Lines
High Speed Handling Solutions
Digital Solutions and Vision Systems
On top of this, in the Innovation Area of the stand, this year Biele presented:
A New all-in-one EVO technology system for High Speed Feeding, Transferring and Stacking.
A Multi-opening Twin Hot Press for doors, veneered faced panels, engineered flooring, etc.
A New Compact Trimming Station for thin veneer, for thin and thick laminates, for foil, etc. .
The number of attendees to the booth was very big with high interest of customers in the proposed solutions and multiple new interesting projects.
On top of this, EVO allows big energy savings for all the applications, through a controlled intelligence vacuum technology, and by minimizing the inertia created with traditional handling equipment.
Biele Group has been committed to the development of the automation equipment and lines for companies of all sectors. And has consolidated its leadership becoming the European reference in the automation of industrial processes.
In order to offer specialized and more efficient services, Biele Group is organized into four divisions, developing specific solutions for companies of different industrial fields: Biele Wood, Biele Metal, Biele Automotive and Biele Building.
Tags: Biele Group, germany, ligna, wood, wood and panel, woodworking, woodworking and manufacturing, woodworking and processing, woodworking event, woodworking industry, woodworking UK