Schmalz continues expansion in Slovenia
&nbspTuesday, September 26, 2023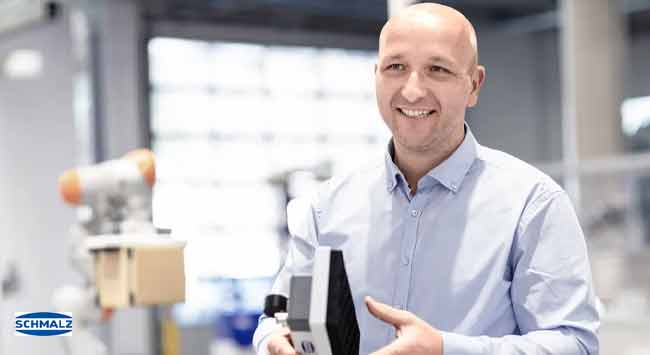 Schmalz continues expansion with the 30th location founded in Slovenia. The Schmalz Group is characterized by its proximity to its customers – because it is precisely in direct exchange that tasks can be successfully released. The next step: a new branch office in Slovenia, which will provide advice and support to the Southeast European market.
In September, the Schmalz Group established its 30th location in Slovenia. The sales company Schmalz d.o.o. is located in Vrhnika and focuses on Southeastern Europe. Bostjan Fortuna heads the new branch as managing director. The 47-year-old Slovenian previously earned his spurs as a field sales representative for Schmalz; he has a great deal of experience in sales. His team supports customers from Serbia, Croatia, Bosnia-Herzegovina, Kosovo, Montenegro and Northern Macedonia with all questions regarding the complete Schmalz product portfolio. The new company thus sells components for vacuum automation as well as manual handling systems.
"With the new representative office in Slovenia, we will drive our development in the Southeast European market. For us, the establishment of the company is another important step towards achieving our growth targets," says Dr. Kurt Schmalz, Managing Director of J. Schmalz GmbH. "This will significantly shorten the routes to our customers in Southeastern Europe. This means that we can provide them with even faster and better consultation on their handling issues." As a result of the new company formation, 30 locations worldwide with around 1,800 employees now belong to the Schmalz Group.
Schmalz products revolutionises vacuum technology with wow effect for automation and handling. With Schmalz products, one may perfectly boost the entire automated processes and relieve the employees of heavy physical work: smart, efficient and sustainable all around.
Intelligent solutions from Schmalz make production and logistics processes more flexible and efficient – and at the same time fit for the advancing digitalization. Schmalz is represented in all important markets with its own locations and trading partners in around 70 countries.
Tags: schmalz, vacuum technology, wood, wood and panel, woodworking, woodworking and processing, woodworking industry, woodworking UK