Schmalz combines flexibility with power prowess
&nbspMonday, October 16, 2023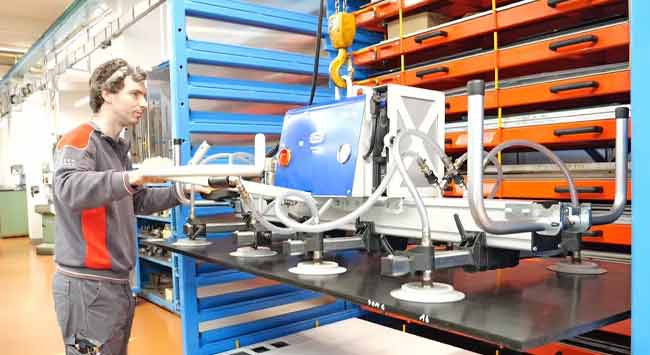 VacuMaster Charge from Schmalz is a perfect way to celebrate ergonomics without a power socket. Wondering how can the flexibility of the vacuum lifting device VacuMaster be further increased? Vacuum expert Schmalz has a simple answer to this question: with a rechargeable battery. This enables professionals to work ergonomically without mains power.
The VacuMaster has become an indispensable tool in metal and woodworking operations. Thanks to many equipment variants, the vacuum lifting device adapts to all requirements. It transports unwieldy workpieces such as sheet metal or wooden boards. With the new VacuMaster Charge, skilled workers now also handle loads independently of a power supply. This increases flexibility, as only an overhead crane is required, but no connector to the power supply. Another advantage: after the work is done, the lifting aid is quickly put down and the crane system is ready for other services.
The VacuMaster Charge has a battery that provides enough power for an eight-hour shift in normal operation. Longer shifts are no problem with an optional exchangeable battery: This allows employees to use the lifting device continuously over several shifts. The power storage unit supplies four diaphragm pumps with energy. Users have a suction rate of eight cubic meters per hour and a vacuum of -850 millibars at their disposal. The intelligent control system switches off the four pumps when the vacuum level is safe and thus guarantees low energy consumption and long battery life.
Developed in the standard version for horizontal transport of suction-tight workpieces, specialists also handle diamond plates safely with special suction plates. The VacuMaster Charge can handle loads of up to 750 kilograms. The modular system allows users to adapt the battery-powered lifting device to individual requirements, as is the case with all models in the product family.
Tags: schmalz, wood, wood and panel, woodworking, woodworking and manufacturing, woodworking and processing, woodworking UK