Schattdecor raised a toast to the interzum 2019
&nbspWednesday, June 19, 2019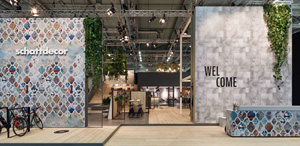 THINK BIG was the motto at Schattdecor's booth at the world's leading trade show for the furniture industry and interior design! The Schattdecor team created a city – the interzum 2019 megacity – that invited customers, designers, and architects to immerse themselves in three exciting and, above all, functional future living environments. The highlight of the new trend concept was Schattdecor's presence as a surface specialist in all areas of life, i.e. in public spaces, workplaces, and living areas. Over a total of 850 square meters of floor space, and for the first time on two levels, visitors were able to see, feel, and experience urban quality of life – whether through the new digitally printed decors Himalaya or Pyramid, which were displayed over large surfaces, extensive floor surfaces featuring tried-and-tested decors such as Neapolis, or the new Coastline Oak, which was used on an inviting "Spanish Steps" seating area in the booth's Public Space section. The innovative, lightweight substrate material from lightweight solutions, together with the new Frost Pine decor, also impressed visitors as a high-tech tabletop in the Coworking area. All of the solutions presented at the booth, which are designed to make life in a megacity even better, reflected the sophisticated, multi-faceted product range that Schattdecor has created in line with its slogan "One Source. Unlimited Solutions" together with its partners – who, for example, supply the right edge or the synchronous press plate.
The Trend Concept at the Booth, New Decors, and Customer Feedback
At its booth, Schattdecor focused on the urbanization megatrend and its impact on urban living spaces, presenting one thing above all else – innovative solutions that will make the Places of Tomorrow even more livable. CEO Roland Auer was extremely satisfied with the feedback from customers and visitors: "This trade show appearance has once again demonstrated the strength, conviction, and confidence that we have as we head into the future. Through our unmistakable Schattdecor corporate culture, we once again succeeded in conveying our complete package to visitors. As a surface specialist, we exhibited an unprecedented variety of new products, design trends, and innovations at our booth – the Schattdecor City – that perfectly meet the needs of our customers and thus received positive feedback across the board."
The Schattdecor Booth from Inside and Out
The trade show booth reproduced the relief of a megacity on the outer facade using an exciting mix of metal, graffiti, concrete, plants, and warm decor colours.
Come in and Find Out Inside, it was the complete package that met the requirements of the modern surfaces of the future and made a lasting impression on trade show visitors in the form of new decors and products for residential, business, and public spaces: "Our visitors confirmed that with Smartfoil Nature, we succeeded in imitating nature so perfectly that it's almost impossible to tell whether the surface is a reproduction or the real thing. By combining impressive print quality with a low gloss, synchronous decor structure, we have achieved a veneer or solid wood appearance that looks extremely realistic and has an anti-fingerprint effect that makes it suitable for a wide range of applications. We received the same feedback regarding our counterpart to Smartfoil Nature, our new product Smartflex Nature – our response to the demand for thermoplastic surfaces – which we presented in a kitchen. The new Art Collection was also met with curiosity and enthusiasm, as its colorful, non-repeating patterns make it both unique and yet still reproducible," said Klaus Müller, Head of Finished Surfaces.
Residential, Business, and Public Spaces – Perfectly and Realistically Portrayed at the Booth
The Skinny House and the Coliving area showcased new, private future living spaces that literally invited visitors to venture inside. According to Claudia Küchen, Head of Marketing, Design, and Corporate Communications at Schattdecor: "In the Living Space, the new Pyramid decor, which features both a cozy and modern feel, proved particularly popular, while in the Coliving Space, visitors were enamored with our new Grey Caspio decor, a supermatte yet durable surface with an anti-fingerprint effect. The Black Glow and Delano Oak decors also resonated with visitors. All in all, we could see that our overall concept is what made our presence extremely well-rounded and, above all, forward-looking – as a surface specialist, we no longer limited ourselves to residential interiors, but also developed surface solutions for public spaces, for modern workplaces, and for e-commerce.
Coworking
In the Coworking Space, an extravagant, innovative piece of furniture was a hot topic of discussion among customers and visitors alike, as it offered a perfect mix of casual design and innovative technology, including smart skills such as wireless charging and retractable, integrated power outlets, and an eye-catching appearance thanks to the table with the new Frost Pine decor.
Public Space
In the Public Space – a large, inviting "Spanish Steps"-style seating area – innovations such as Canyon Malibu Chestnut and Tambora impressed visitors. The inviting café on the ground floor, where visitors could enjoy Italian coffee specialties and a wide variety of snacks, was also a real crowd-puller.
E-Shop
The E-Shop area of the booth featured furniture that reflects the trend towards lightweight design for easy transport, but also comes as part of a clever modular system. New decors such as San Marino Oak and Ventura Chestnut in the form of decor sets served as excellent sources of inspiration for online shoppers.
All in all, interzum was the most important trade show for Schattdecor as a surface specialist and decor developer. And this year, thanks to a remarkable trend, it even gained in significance – with a total of 75,000 visitors, 75% of whom came from abroad, the trade show in 2019 was both busier and more international than in 2017. This was also clearly seen at the Schattdecor booth, which saw numerous groups of visitors from China and India.
Tags: CEO, focus, interzum 2019, interzum 2019 megacity, Roland Auer, Schattdecor, successful, THINK BIG, urbanisation megatrend