Schattdecor at Sicam 2021
&nbspThursday, October 7, 2021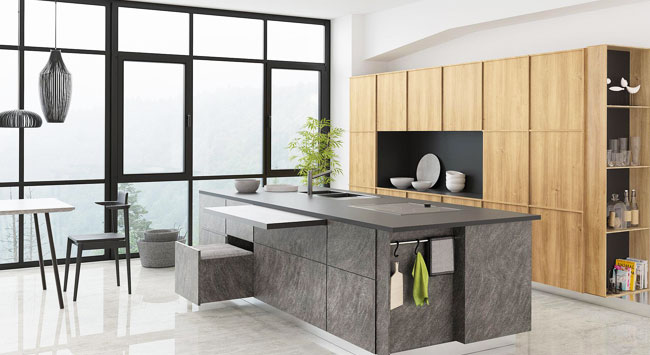 Schattdecor launches its new decor collection at Sicam 2021. The recent research on "Resilient Habitats: Security through flexible living spaces" revealed that convertible, modular concepts in home, working, and public spaces are currently more in demand than ever. At the upcoming show in October at Italy, Sicam, visitors may expect a treat to their eyes from the designers at Schattdecor.
Sabrina Wieland, Head of Design Thansau: "The selected decors reflect global trends. They are linked by their expression of a 'new rusticity'. They radiate originality, but without embodying the classic, widespread 'rustic'. These are fine, balanced compositions with refined details that reflect the spirit of the times. This zeitgeist calls for quieter surfaces that radiate naturalness, also combined with wow effects such as metallic colors. They radiate a matter of course and embody self-confidence in the material without appearing intrusive."

Customers and trade fair visitors can expect new color, interior, and decor trends from the surface specialist, Schattdecor, for the first time physically this year at Sicam.
Highlights at Sicam

… they are called: Firestone, Valongo, Flagstaff Oak (interzum Award winner 2021 for "high product quality"), Magnolia, and Karlstad Oak – this last one in a new color for Sicam. For the fair, the international market leader is relying on a new, even lighter color, based on current demand. Karlstad Oak is celebrating its premiere in Italy in color "005".
"We have already received very good feedback from various markets on the Magnolia layout. This is certainly due to the fact that the design is balanced but exciting. It is new and doesn't seem to be so familiar, since in this form it looks special. Our goal is to create an alternative, new wood structure for the living room furniture area with this special wood décor," says Max Hammerschmidt, Design Department.
Tags: Italian wood working, poland, Schattdecor, Sicam 2021, woodworking and manufacturing, woodworking event, woodworking industry