New in SEMA: HCW timber fasteners from Hilti
&nbspWednesday, November 1, 2023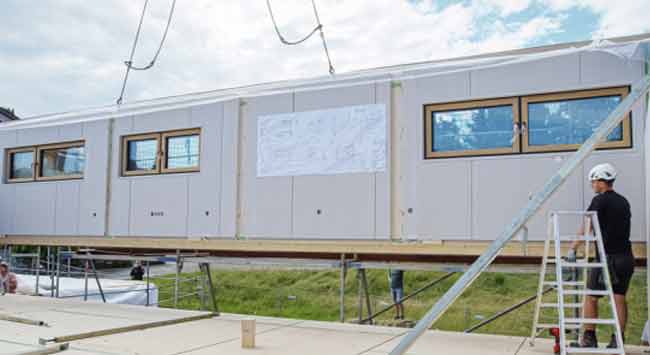 Another fastener, the Hilti Coupler Wood timber fastener (HCW), is now available in the SEMA program. The fastener can be downloaded for installation from the SEMA data store. The Hilti Coupler Wood is a new, efficient timber fastener system for the quick assembly of prefabricated timber constructions, especially for closed wall systems in timber-framed construction. The fastening can be done either in wood-to-wood or wood-to-concrete.
The advantages are obvious:
Simplified production planning
Many requirements are met with just two types of timber fasteners: HCW for lower tensile and shear stresses or HCW L with nailing plate for high tensile loads.
More efficient dimensioning
HCW timber fasteners can absorb tensile and shear forces and are placed in the centre; this makes them more versatile and measurable with less effort.
Standardized for prefabrication
Timber components can be pre-drilled using standard CNC machines for HCW connectors with minimal manual effort.
Faster progress on the construction site
The pre-installed timber fasteners facilitate positioning, levelling and fastening to save labour, time and reduce the amount of rework.
As of SEMA Version 22-1, the STEXON connectors have been replaced by the Hilti HCW fasteners in the SEMA data store where they can be downloaded free of charge.
After installing the new master data folder, the HCW fasteners are available to the SEMA user for design.
In addition, measuring points have been anchored so that the fasteners can be marked out, for example, in the case of wood-concrete connections on a floor plate. The measuring points are numbered consecutively during an export using placeholders. This creates a consistent view for the construction site, where each individual fastener for the respective wall is located.
The measuring points can be transferred to a digital marking-out device to provide the construction site with planning precision.
The measuring points are already anchored and predefined on the shear connector "HCW 37×45 M12" and on the tension connector "HCW L 40×295 M12" in the SEMA program. The numbering is made up of the designation of the fastener, the roof/wall/floor number and a free number and numbers itself during the export of measuring points. The shear connectors can be spaced using drilling templates and tension connectors can be used directly on a piece of wood using an end type. What's more, combined master data have been prepared for wood-to-wood connections, which consist of the shear or tension connector and the HSW hanger bolt "HSW M12x220". This bolt creates a drilling on the counter component for positioning and pre-drilling in the manufacturing site.
SEMA simplifies the assembly processes on the floor plate and on the levels above by providing the Hilti Coupler Wood fastener.
Tags: HILTI, sema, wood and panel, woodworking and manufacturing, woodworking software, woodworking UK