LIGNA to offer overview on entire wood value chain
&nbspMonday, April 24, 2023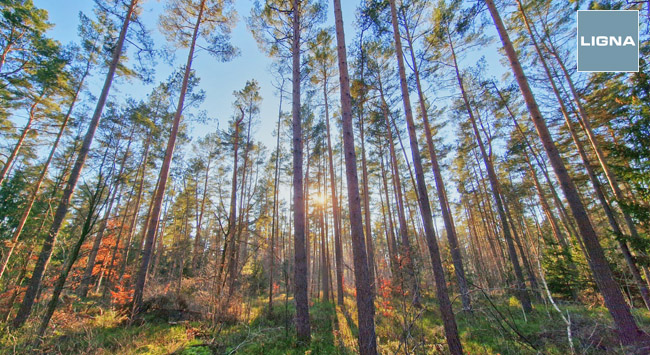 LIGNA from May 15 to 19 in Hannover offers a unique overview of the entire value chain of the woodworking and wood processing industry. It is THE international showcase for innovations and THE stage for premieres. At LIGNA 2023, visitors will meet exhibitors from roughly 50 countries.
The Machinery for Forestry, Roundwood & Sawntimber Production exhibition area highlights the importance of wood as a raw material in the development of sustainable value creation. In ten exhibition halls, on the open-air site and in pavilions 33 and 35, LIGNA maps the entire value chain from tree to finished end product, thus promoting closer networking between the primary and secondary industries as an industry platform.
"Here in Hannover, solutions for climate-adapted forest management will be the topic of discussion. After all, climate change, which is having a major impact on the development of forests and changing the previous raw material base of wood, is presenting the industry with new challenges. That's why the focus will be on technological innovations that support sustainable forestry production and the efficient provision of wood as a raw material," says Stephanie Wagner, Head of LIGNA at Deutsche Messe.
In Pavilion 33, visitors to LIGNA 2023 can follow a circuit along increasingly digitized value and process chains under the motto "Raw Materials – Forestry – Logistics". "Pavilion 33 thus brings together the key players who are at the beginning of wood-based value chains," says a delighted Dr. Maurice Strunk, Managing Director of AfL Niedersachsen e. V. "However, by presenting highly topical solutions for the production and sustainable provision of wood as a raw material, P33 is not only a platform for forestry exchange, but also sees itself as an interface to the woodworking and processing industry." The highly topical solutions mentioned by Dr. Strunk are taken up, for example, by the NLF's trade fair presentation, which this year focuses on the reforestation of forest areas damaged by storms and bark beetles and presents excavator fork planting in cooperation with the AfL. As a partially mechanized planting technique, it ensures a root-friendly and soil-conserving cultural establishment of large plants (80-120cm), a faster crop establishment and lower future maintenance expenses. In this way, excavator fork planting makes an important contribution to active reforestation with climate-adapted and resistant mixed deciduous forests.
As a forestry policy and professional interest group representing non-state forest owners in Lower Saxony, the Waldbesitzerverband Niedersachsen e.V. is represented at LIGNA with two projects. The "Climate Protection Forests for Lower Saxony" project motivates forest owners to manage their forests in a targeted manner, thereby contributing to climate protection. In the "FirSt 2.0" project, applications for monitoring damage events are being developed to enable forest owners to improve forest management.
Climate change and current forest damage pose considerable challenges for the forestry and wood cluster. At the same time, new potentials for the raw material wood arise in the context of the transformation towards a modern, resource-efficient and climate-neutral economy. Under the motto "NRW – Making more out of wood", the partners will present new and resource-efficient uses for the raw material wood at the joint stand of Wald und Holz NRW (Forrest and Wood NRW).
Sawmill technology, an indispensable part of the wood industry, is also continuously developing to become more efficient and thus more sustainable, not least thanks to new processes for recycling former waste products. In Hall 25, exhibitors such as Linck, USNR and EWD will be demonstrating that it is becoming increasingly important for sawmill technology to handle wood as a raw material in the most resource-conserving way possible in order to successfully meet the challenges of raw material shortages, value optimization and further refinement.
Central topics in this context at LIGNA 2023 will be material handling and logistics. Here, industry giants such as Sennebogen, Liebherr, Hubtex and Combilift are among the exhibitors.
In addition to the exhibitors' offerings, there will be a diverse supporting program specially developed for the forestry, roundwood and sawntimber production machinery and equipment sector. For example, the LIGNA Forestry Get-together, organized by the AfL Lower Saxony and Deutsche Messe, will once again be the tried-and-tested central meeting place for networking and professional exchange, directly in front of Pavilion 33 under the EXPO roof (N76).
Tags: BIO ECONOMY, Forestry, lifting, ligna, LIGNA23, logging, roundwood, solidwood, Stephanie Wagner, sustainability