LIGNA: CMC Texpan is waiting for you
&nbspWednesday, May 3, 2023
CMC Texpan, located in Colzate (Bergamo – Italy), started its "career" in 1962, and then it has been cooperating with Siempelkamp since the 1980s. It gained, throughout the years, great experience working on different projects, developing technologies thanks to the professionals, specialists and technologists that always focus their energies and skills on working closely together. All these elements made of CMC Texpan the front-end specialist in the wood-based panel industry and worldwide leader supplier of machinery and plants in the wood-based industry.
CMC Texpan will attend LIGNA 2023 at the Siempelkamp headquarters stand, as its Italian subsidiary.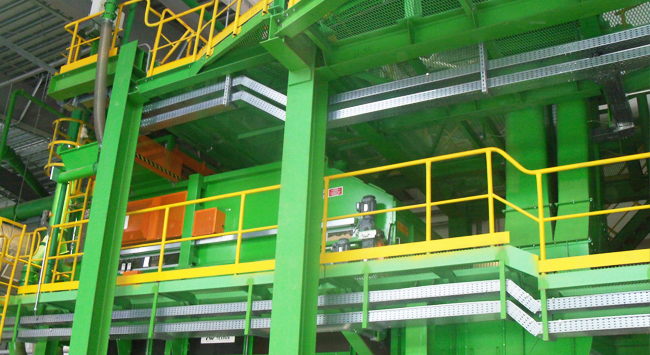 During the last years, the concepts of environmental impact and sustainability and energy savings are on the agenda and priority issues. Of course, even for CMC Texpan, these topics are very important and not negligible, that is why during LIGNA, CMC Texpan would like to focus on one of its patented star product: the "EcoFormer SL". This optimized wind forming system for surface layer particles that makes it possible to reduce operating costs and at the same time keeping excellent quality.
The main advantages of EcoFormer SL are the blower pipes with horizontal impact of airflow on flakes that make a better separation and multiples fan, instead of only one, allow a better adjustment of the airflow. Moreover, in order to optimize the separation, the adjustable blowers have different air speeds in different height levels and a high wind forming chamber allows for a perfect separation of finer and coarser flakes.
EcoFormer SL can be installed in existing plant thank to the similar overall dimensions. Thanks also to the improved cross weight distribution there is a material saving and lower costs, in the meantime the reduction of pressure loss and power consumption, guarantees lower energy-related costs. Last but not least, the round-section blowers allow easy cleaning with no more material build-ups.
The technicians of CMC Texpan will attend the fair to give to the costumers all the information concerning this machine or any other data about CMC Texpan range of products.
In addition, also Alessandro Brembilla, the incoming Managing Director of CMC Texpan will take part in the fair.
At the Stand no. E27 in Hall 26 CMC Texpan will looking forward to welcoming interested visitors and meet customers and friends.
You can also visit the web site www.cmc-texpan.com and the LinkedIn page at this link www.linkedin.com/company/cmctexpan/ or write to info@cmc-texpan.com.

Tags: CMC Texpan, EcoFormer SL, Ecoformer SL (Surface Layer), ligna, lower cost, Siempelkamp, Surface Layer, sustainability