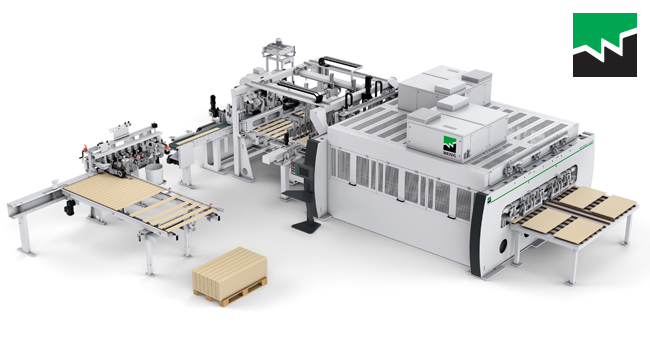 A leading provider of woodworking machinery and solutions, WEINIG offers comprehensive system solutions tailored to customers' specific needs. By harnessing the collective expertise of the entire WEINIG Group, complete machine and plant concepts are designed for reliable, resource-efficient, practical, and cost-effective manufacturing, aligned with the required performance class and investment size.
At Weinig everything is handled under one roof – from the initial concept and plant design to order processing and production support. Challenging projects are handled with innovative ideas with a team that takes responsibility for the planning, optimizing, integration, implementation, and evaluation of all steps throughout the process.
Customers can take advantage of the team's extensive experience in planning and implementing various manufacturing systems. "We take care of the process from the conception until the execution of complex manufacturing projects", proclaims Weinig.
Weinig Systems Solutions include:
Planning and engineering: The team of experts works closely with the customers to develop customized plans and engineering solutions that meet their specific requirements. Cutting-edge technology is being leveraged and industry best practices are optimized to fit the specific manufacturing processes.

Additionally, WEINIG's consulting services provide valuable insights and recommendations to enhance production efficiency, reduce costs, and improve overall performance. Weinig consultants draw on their vast industry knowledge and understanding of market trends to help make informed decisions.

A needs and inventory analysis comprises a thorough assessment of the customer's needs and existing inventory to identify gaps, inefficiencies, and potential areas for improvement. This analysis forms the foundation for developing tailored solutions that address the company's unique challenges.

Process optimization is executed to maximize productivity and minimize waste: The System Solution experts analyze the workflows, identify bottlenecks, and implement strategies to streamline operations, improve throughput, and enhance overall output quality. WEINIG's System Solutions team stands by the customer's side throughout the production phase, providing ongoing support and guidance. Their team of experts ensures that the systems operate smoothly, troubleshoots any issues that may arise, and helps maximize the return on investment.
The scope of projects comprises production facilities for
Glulam, duo and trio beams
Cross laminated timber (CLT)
Solid wood panel
Multi-layer panels
Cutting and Planing Line
BOND-4-YIELD System
Capital intensive investments in new production plants are facilitated by the support of a reliable partner. Thus, Weinig's System Solutions is focused on a comprehensive approach, based upon extensive industry knowledge, and advanced technologies to achieve market-oriented and future-proof manufacturing.

Meet WEINIG Systems Solutions experts at the LIGNA 2023, in Hall 27.