Impossible angles made simpler with the new Lamello Clamex S-20
&nbspMonday, July 10, 2023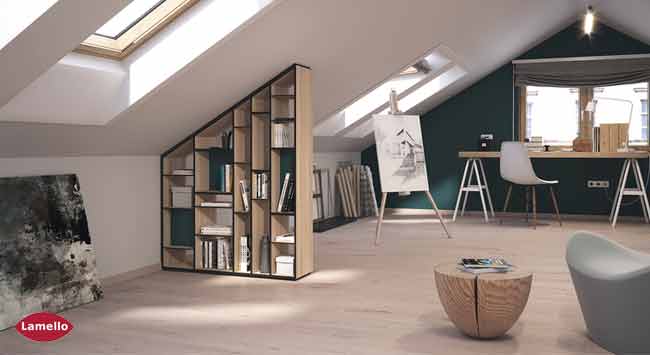 Impossible angles made easy with the new Lamello Clamex S-20. The latest from Lamello creates precise and near-invisible furniture joints quick and easily into material as thin as 8mm. Launched at interzum and LIGNA 2023, the Clamex S-20 is a detachable furniture connector that is based on the universally known 4mm installation principle. With its thin design and strong joining force, the connector opens up completely new dimensions in wood joining technology.
Clamex S-20 is a detachable connector for the Lamello system for material thicknesses from 16 mm and is fastened in the groove with screws. The symmetric 4 mm grooves can be created with any biscuit joiner. Clamex S-20 is connected to the counterpart with a lever and has a lateral installation tolerance. It requires no adhesive, enables aesthetic connections at all angles and is ideal for fixed or detachable connections.
"Like every Clamex connector from Lamello, the Clamex S-20 is detachable and is connected to the counterpart with a rotating lever that can be opened time and again," says Shaye Chatfield, Lamello UK's sales manager. "Using a biscuit jointer, the connector halves are anchored into the groove with two screws to ensure a strong hold, whilst the small 6mm access opening for closing and opening the connector offers a discreet finish on corner, surface or frame connections.
Shaye continues, "Whilst the existing Clamex S-18 connector needs an 8mm cut to insert the fitting, the new Clamex S-20 has been designed to work with a universal 4mm cut – making it even more versatile and quicker to use. Mitre joints are now possible on materials as thin as 14mm thick and butt joints with installation into the edges can measure as little as 8mm thick.
"The Clamex S-20 can also be used for angle connections from 30º – 180º and, to make life even simpler, the system comes with its own drilling jig for precise positioning.
It will be available in Europe from September 2023.
Tags: Lamello, ligna, wood and panel, woodworking, woodworking and manufacturing, woodworking and processing, woodworking event, woodworking industry, woodworking UK