IMA Schelling brings ground breaking machining solutions
&nbspMonday, July 31, 2023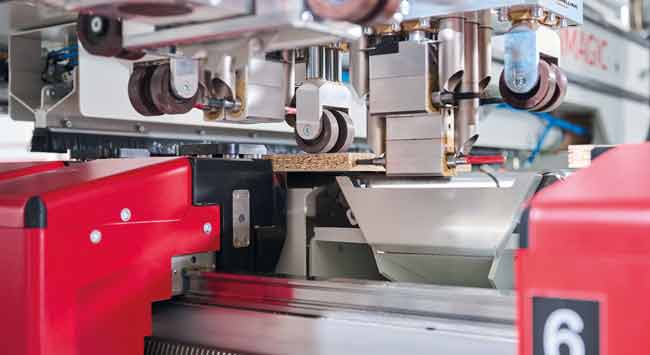 The modular IMAGIC L1 throughfeed drilling machine, the latest from IMA Schelling allows for automated, setup-free machining even for batch size 1 production.
Be it drilling, milling, grooving or mounting fittings, the IMAGIC L1 throughfeed drilling machine from IMA Schelling can be tailored to all individual customer requirements with regard to the type of machining, scope of machining and required power. This is made possible by standard modules that can be assembled and expanded over a length of up to three machining bridges as per the specific application.
The diverse mounting options on both sides of the machining supports allow for optimum cutting to size of the workpieces at any time and, depending on the components, even parallel machining on the front and rear of the support. Be it pure drilling or any desired combination of milling, drilling, dowel fitting and mounting fittings, the machine's design is determined by the customer's requirements.
Easy drill bit changes, good accessibility
Up to three machining supports can be installed on one machine. Integration of a milling spindle with a stationary tool changer is also possible as an option. Appropriate parking and maintenance positions of the units ensure easy drill bit changes and good accessibility for maintenance purposes.
The IMA Schelling Group has developed the IMAGIC L1 in collaboration with its technology partner Zimmer Group from Rheinau. The patented Zimmer transport system with circulating clamping grippers conveys the workpieces through the entire system in a permanent, fixed clamp, even with several machining supports. This produces several benefits at once. The clamping means that workpiece gaps and the chip-to-chip times can be reduced to a minimum. Together with the high dynamics of the entire system, this leads to greater plant availability and increased machine performance.
Manual or automated
Thanks to its modular design, the IMAGIC L1 can be configured as either a manual or automated drilling cell. It can also be integrated into complex production lines with ease. "We developed the drilling machine specifically for highly efficient and varied production," explains Product Manager Jens Jeroch. "The product is generating a great deal of interest among customers and the first machines will be delivered during the course of this year."
Tags: IMS Schelling, wood, wood and panel, woodworking, woodworking and manufacturing, woodworking and processing, woodworking event, woodworking industry, woodworking UK