Festool bring solutions for future at upcoming LIGNA
&nbspTuesday, April 4, 2023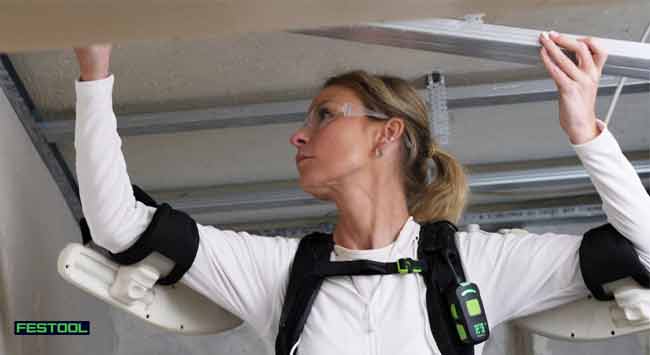 Festool, the revolutionary tool makers will bring a real time solution for the industry and showcase the battery-powered exoskeleton at upcoming LIGNA. This year Festool gears up to hold a real premiere that is intended to help craftsmen in the future.
With the new ExoActive, the Swabian tool specialist Festool is presenting an active exoskeleton powered by 18-volt battery power for the first time in its almost hundred-year company history. According to Festool, this is nothing less than a revolution for the building trade and almost all of its trades: because the ExoActive exoskeleton – in contrast to the systems available on the market to date – literally gives tradesmen and women a helping hand. "Anyone who has once worked with the support of an active exoskeleton will never want to take on a wall or ceiling again without our ExoActive," Dominic Ender, product manager for the new ExoActive exoskeleton, is therefore certain.
With the battery-powered ExoActive exoskeleton, strenuous overhead work should be child's play in the future. Whether drywall construction or painting work, whether wallpapering or assembly, whether on walls or ceilings: Festool's ExoActive exoskeleton is designed to give users an extra dose of strength when their arms get tired – while also taking the strain off their necks. Less physical strain means at the same time more efficiency, more concentration on the quality of work and thus more enjoyment of the work. According to Festool, the required power can be regulated in seconds on the exoskeleton so that it provides targeted support where it should. Like a backpack, the ExoActive is lightweight and comfortable to wear and can also be quickly adjusted to fit almost any body size individually. The new ExoActive exoskeleton from Festool is expected to be available from selected retailers in the course of 2023.
Tags: 2023, Festool, ligna, wood, wood and panel, woodworking, woodworking and manufacturing, woodworking and processing, woodworking event, woodworking industry, woodworking UK