Another feather in the cap for Altendorf Group
&nbspWednesday, December 21, 2022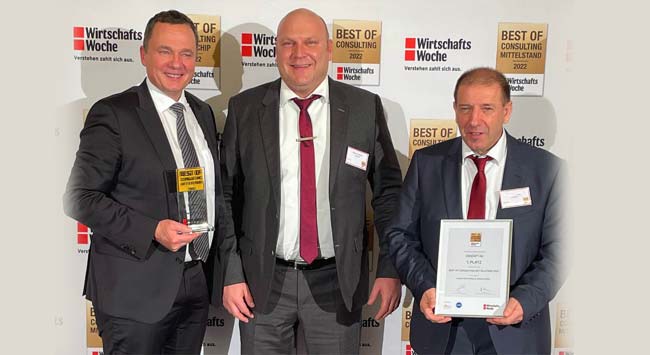 Altendorf Group wins the 1st place at "Best of Consulting Mittelstand" of WirtschaftsWoche for CONCEPT AG with optimisation project. Path breaking innovations from Altendorf Group, one of the world market leaders in sliding table saw and edge banding machine performance has impressed the industry once again, and the brand is the winner of the award and celebration continues.  This year the brand has won several awards and accolades for taking woodworking technology to the next level.
"That's impressive: Within just four months, the Altendorf Group, doubled output at its Hebrock plant thanks to a new production layout and the digitalization of store floor management. The well-known German publisher WirtschaftsWoche awarded the CONCEPT AG, which developed the concept and actively supported its implementation, with the 1st place in the Manufacturing & Operations category of the "Best of Consulting SME 2022" competition for the successful project. "
In order to satisfy the rising demand and increased order volume for edge banding machines, Hebrock needed to find a solution to significantly increase output in production. Since extended delivery times were not an option, the machine builder tasked CONCEPT AG to find a solution to the problem.
Until now, the Altendorf Group manufactured its edge banding machines in conventional batch production at the factory of the traditional Hebrock brand. Even the first analyses showed: For a higher production output, the assembly of components and the existing, but not clocked assembly line had to be converted into a clocked line assembly.
The consulting team developed three scenarios as a basis for decision-making. Implementation started just one month after the assignment. Within the summer break, which lasted only three weeks, production within the existing buildings was converted to line production and the factory halls were equipped so that the machines move continuously from station to station with a uniform cycle time.
Digitization of store floor management
Peter Schwenk, CEO of the Altendorf Group, praises the very good cooperation on this project: "As a machine builder, we have achieved the goal of increasing production output from the previous 2.8 machines per day to 5 machines in a short space of time – accompanied by a significant increase in the efficiency of existing capacities. A great advantage in times of shortage of skilled workers. The 'hands-on mentality' of CONCEPT AG's consultants, their good cooperation with our executives and the convincing work they did with those involved in the assembly contributed significantly to achieving this excellent result within a few months."
Tags: Altendorf Group, CONCEPT AG, Edgebanding, Hebrock plant, Peter Schwenk, Sliding table saw, WirtschaftsWoche, woodworking and manufacturing, woodworking event, woodworking industry