Adler launches revolutionary fire protection system
&nbspWednesday, June 7, 2023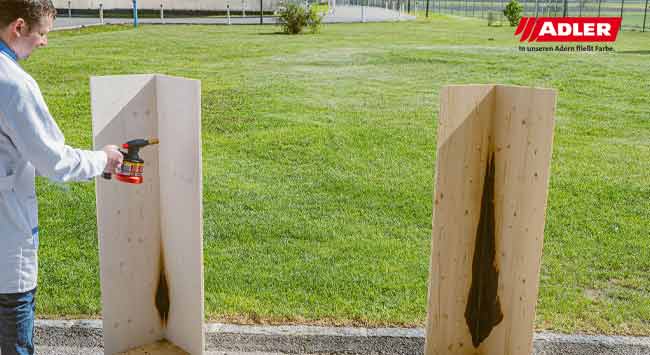 Adler launches its revolutionary Pyrolan Expand coating system as an optimal solution to protect wooden constructions from fire. A simple and versatile coating, Pyrolan Expand protects wood surfaces from damages, preserving its natural look and design. The other factor that makes the newly developed coating structure more special is its water-based composition that is free of formaldehyde, biocides, heavy metals and halogens. This makes the structure fire resistant preventing the release of toxic substances such as formaldehyde.
The innovative combination of raw materials that make up the primer Pyrolan Expand Base makes the coating fire resistant. At a high temperature around 300 degrees, a protective carbon foam layer develops to cover the wood shielding it from the burning flames. The spread and development of fire slowly subsides as it comes in contact with the layer. The coating system protects the wood for the longer time when it comes in contact with fire, giving more time for the rescue system to work.
Easy and efficient application-
The coating of Pyrolan Expand can be easily applied following differ processes. It can be sprayed, brushed or rolled. The Pyrolan Expand Top is applied as the top coat after applying the primer Pyrolan Expand Base. The top coat is important as this coating ensures that the fire protection function is permanently maintained while protecting the wood from damage and dirt as well. Another coating of wooden elements that are installed in the interior is also possible in order to increase fire protection. Pyrolan Expand also offers scope for design, thus Stefan Frumlacher states "In the translucent variant, we have optimized the coloring of the coating for numerous common types of wood such as spruce or fir, to preserve the natural appearance of the wood. In addition, we can also offer Pyrolan Expand in various shades as an opaque variant," Noting every detail, it can be believed that this new coating system a reliable and elegant fire protection system that opens numerous scopes and possibilities to take modern timber construction to another height.
Tags: ADLER, coating system, Protective coating system, wood and panel, woodworking, woodworking and manufacturing, woodworking and processing, woodworking industry, woodworking UK