Wood-Mizer introduces LT20WIDE Mobile Sawmill
&nbspTuesday, June 13, 2023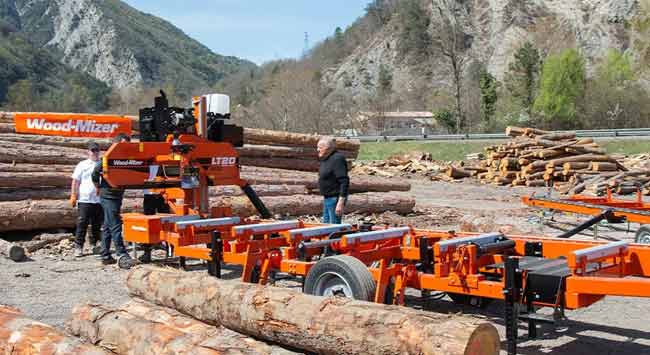 Wood-Mizer adds the WIDE head option to the LT20 series, designed for custom sawmilling, small-to-medium timber businesses, and entrepreneurs. With the launch of the LT20 WIDE sawmill Wood-Mizer completed the implementation of the WIDE option into the whole LT sawmill line, which includes LT15, LT20, LT40, and LT70 machines. The new LT20 WIDE sawmill in mobile version was presented first in France at the end of March 2023.
The WIDE sawhead has been developed to meet the increasing demand in the industry to saw larger logs. With a wider sawhead, the operator can cut logs with a maximum diameter of 90 cm. The WIDE sawhead generates additional benefits in urban sawmilling and areas where large-diameter logs are cheaper and easily sourced.
"The new LT20 WIDE Mobile sawmill with a wider sawhead responds to a growing demand for lightweight and affordable sawmills with the log capacity matching larger machines," says Tizoc Chavez, manager of Wood-Mizer France. "The LT20 WIDE Mobile has been developed for small sawmilling workshops and individual users, although it will match the needs of larger enterprises focused on increased efficiency. This machine is also good for sawmillers just starting their business."
The new version of the LT20 WIDE sawmill is available with the 7,5 kW, 11 kW, and 15 kW electric motors, the 25 HP gasoline engine, and the 22 HP or 25 HP diesel engines.
With the standard automatic board thickness adjustment Setworks SW10 device, cutting is more convenient as the operator does not need to remember to set the thickness after each cut. The sawhead is moved up/down and forward/reverse electrically. Water from the tank feeds lubrication directly to the blade to improve cutting. The electric blade guide arm keeps the blade supported while cutting various-sized materials. Blade tension is easily adjusted and keeps the blade at the proper tension for cutting. An optional debarker helps to keep the sawmill blade sharp for longer as it clears dirt and rocks from the tree bark.
With a wider head and a mobile chassis, the LT20 WIDE sawmill matches the needs of those sawmillers who look for efficient, flexible, and productive ways to convert logs to timber.
Tags: sawmilling, timber business, WIDE, wood, wood and panel, woodworking, woodworking and manufacturing, woodworking and processing, woodworking industry, woodworking UK