Siempelkamp and Kastamonu Entegre celebrates a hat trick in partnership
&nbspWednesday, October 25, 2023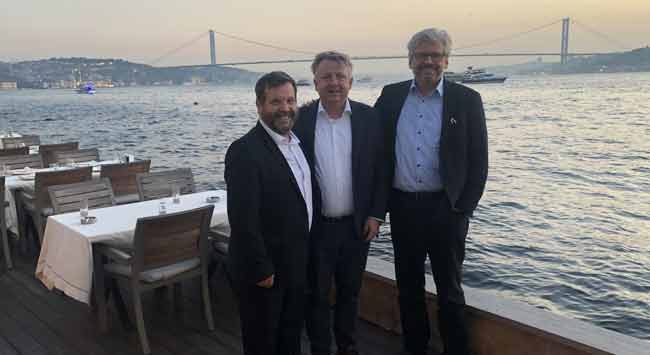 For Siempelkamp and Kastamonu Entegre, three plants in three years through collaboration lead to a successful hat trick. "We are aiming for a hat trick…," announced Ulrich Kaiser, Head of Sales Wood Division at Siempelkamp, in Spring 2023 after the last final inspection at Kastamonu Entegre. The time has come: At the end of August, only nine days after the first board, the particleboard plant at the Kastamonu City site is running in stable three-shift operation. This means that the total time taken from the start of installation in January 2023 to three-shift operation was around eight months!
Kastamonu Entegre and Siempelkamp have achieved a hat trick no less than three times in three years. Both partners realised successful and rapid commissioning and final inspection of two particleboard plants and an MDF plant.
So for the third time in a row, Kastamonu Entegre and Siempelkamp have achieved an excellent result together. Most recently, both teams managed a really tight timeline from the start of installation in June 2022 to final inspection within nine months in Balıkesir. This is where Kastamonu Entegre is operating an MDF plant which includes the longest ContiRoll® in Turkey, measuring 8′ x 63.7 m. The speed of the ramp-up curve ending with final inspection of the scope of supply in just seven weeks stood out in particular within the overall timeline.
"The current third project in a row has benefited from our joint experience gained over the first two projects. We grew together with the client's team to form a joint, highly motivated team in each of these projects. This motivation was a key to our success – especially because we repeatedly made quick and, above all, the right decisions together during the course of the project," confirms Axel Weiss who played a major part in the hat trick as the Siempelkamp project manager.
Another key success factor was the high-quality and brilliantly organized supply share. Kastamonu Entregre ordered a forming and press line with ContiRoll® in the format 7' x 37.1 m for its most recent particleboard plant. The automation, cooling and stacking line and sanding line were also included in the spec. "We managed the installation in record time together – despite cramped conditions and lack of space. That only works if the customer and supplier are perfectly well-coordinated," explains Axel Weiss. Ulrich Kaiser adds: "Realizing three projects like this together in such a short time is exceptional. Thanks go to the Kastamonu Entegre team for so much trust and great teamwork!"
Read more news on Siempelkamp here.
Tags: MDF, particleboard, Siempelkamp, woodworking event, woodworking UK