Ponsse UK announces Gary Glendinning as the Area Director
Published on :Monday, December 21, 2020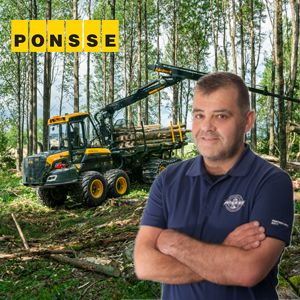 Gary Glendinning will soon start as the Area Director of the UK and Ireland and as the Managing Director of Ponsse UK Ltd. from January 1, 2021. The Group's subsidiary Ponsse Machines Ireland Ltd. will be responsible for providing Ponsse customer support and sales in Ireland.
Glendinning will transfer to his new position from the position of Ponsse Group's Area Director In Charge of Bulgaria, Hungary, Italy, Romania, Slovenia, Croatia and Serbia, in which he has worked since the beginning of 2018. He started at Ponsse in 1997, working in various maintenance service positions and being the managing director of Ponsse UK Ltd. between 2007 and 2017.
Gary Glendinning will report to Marko Mattila, Ponsse Group's sales, service and marketing director, and he will work in Annan, Scotland.
Dean Robson appointed sales and marketing manager
Ponsse UK Ltd's current managing director Dean Robson will be transferred to the position of sales and marketing manager from January 1, 2021. He will be responsible for the UK and Ireland sales regions.  Robson has worked for the company since 2004. Before his transfer to the position of managing director, he worked in machine sales at Ponsse UK.
Dean Robson will report to Gary Glendinning, managing director of Ponsse UK Ltd., and he will work in Annan, Scotland.
Tags: coronavirus, Covid-19, Forestry, pandemic, PONSSE, UK and European woodworking industry, woodcutting machine, woodworking and manufacturing, woodworking industry