NEXTEC 4.0 from HOLZ-HER
Published on : Thursday, March 11, 2021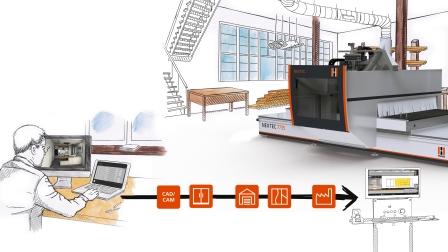 The NEXTEC nesting machining centers from HOLZ-HER include 3 lines in various sizes and degrees of automation, giving HOLZ-HER the right solution for every requirement and every size shop.
Nesting machining with the NEXTEC offers the advantage of precision formatting and CNC machining with one single clamping operation. And this with minimum handling by the machine operator. Our nesting technology is perfect for use of state-of-the-art connection technologies such as the Clamex P-System or Cabineo connectors.
The new NEXTEC 4.0 solution goes far beyond pure machining operations. It offers a complete solution for entry and control of production and material flow in the workshop. The NEXTEC 4.0 Master Computer is the heart of this technology. This additional computer takes over part design as well as control of the data and material flow during work preparation. This master computer then automatically transfers the data to the machine. The advantages are obvious: Work preparation and the machine are interlinked using cutting edge technology, while the data remains in local storage in your workshop.
With the Cabinet Configurator software HOLZ-HER is capable of generating CNC and cutting data for your panel furniture in the simplest manner.
Other professional CAD/CAM software systems can be used for even greater flexibility. Naturally, standardized interfaces are provided for transferring data to the HOLZ-HER Warehouse program.
The Warehouse program serves for managing orders using the integrated Warehouse database. Among other features, this software allows consolidation of multiple orders for production as one collective job. The integrated workpiece management list allows workpieces and their quantity to be entered and changed manually. The software also includes a material database. Data is reconciled automatically.
The job database on the machine computer serves for monitoring the orders pending for the machining center as well as the degree to which they have been processed. This provides the machine operator with a clear overview of the nesting plans to be produced. Moreover it shows the anticipated processing time, degree of processing and production time achieved.
Of course, the NEXTEC 4.0 solution is also available for the 5-axis nesting machining centers. The 5-axis head with universal mounts offers greater flexibility in designing and producing your work.
Tags: CNC machines, Holzher, industry 4.0, NEXTEC, NEXTEC 4.0, NEXTEC technology, weinig, woodworking and manufacturing, woodworking industry
| | |
| --- | --- |
| | |
| | |