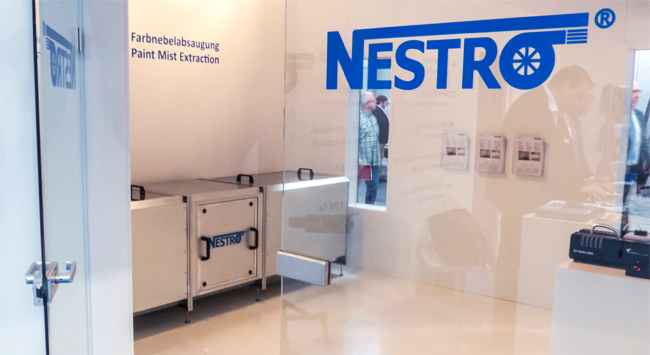 NESTRO Lufttechnik GmbH is present at the entrance to halls 14/15 at LIGNA with a two-storey booth (no. G05) and is exclusively demonstrating live its filter and surface technology. The focus is set on the increased demands for a perfect, impressive material surface. Spray walls with various pre-separators, extraction devices and, for the highest demands, the PAINTLINE system are available for a distinguished paint finish. For preliminary and intermediate sanding, NESTRO® offers work & sanding tables for components or sanding stands for particularly large items. At this trade fair, visitors can experience and evaluate all applications in surface technology live.
Sanding stand NST 75
The NESTRO® NST 75 sanding stand features an air capacity of 7,500 m³/h and a separation efficiency of up to 95% to ensure a dust-free environment during preliminary and intermediate sanding. This ensures maximum free moving space within a working area of 4,000 x 3,100 mm. The return air mode saves energy costs and ensures draught-free room climate.
PAINTLINE-System for paint mist
For the highest demands in painting, NESTRO® offers the PAINTLINE system in three performance classes (Classic, Comfort and Premium) with volume flows from 7,500 to 24,500 m³/h in above-floor or under- floor layout. The company will be demonstrating live the PAINTLINE Classic OF 75 system allowing consistently high quality even in continuous operation with the simplest handling.
Also set up on the NESTRO® exhibition booth is a 9/5 JET intermediate filter, a deduster NE 300 J with briquetting press NBP as well as a shredder NSL 60. The modular 9/5 design of filter elements is clearly visible allowing an extraction capacity of up to 150,000 m³/h. The NE J range of dust collectors is the first in the world to feature IE5 synchronous reluctance motor / frequency converter packages from ABB – here presented with a briquetting press. With these state-of-the-art devices, users can save up to 22% in energy costs compared to dedusters with IE3 motors. Shredders of the NSL series from NESTRO® are characterized by extremely robust technology. The single-shaft technology has established itself on the market for wood waste in joineries and in the wood-processing industry.