Mirka new DEOS delivers precise and efficient sanding performance
&nbspWednesday, July 26, 2023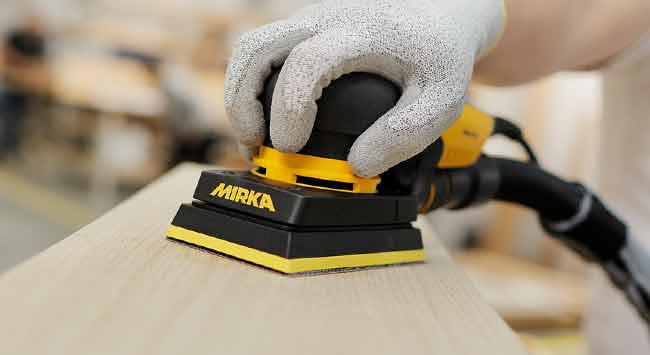 The all new Mirka DEOS simplifies sanding process by reducing performance time and accelerating efficiency. Mirka DEOS, an electric orbital sander, integrates all the innovative features that have made the Mirka DEROS so popular, and more. Its high efficiency brushless motor exerts plenty of power so the sander completes jobs quickly.  At only 4″ high, the tool's compact and very low profile makes it easy to maneuver and helps deliver a precise and efficient sanding performance.
Meet the NEW 3×4 DEOS Sander
New to the DEOS family, the 343XCV 3" x 4" Compact Sander is small enough to work in tight spaces. The 3×4 DEOS is lightweight and ergonomic, bringing power to places where hand sanding may have been required in the past.
Mirka DEOS
The Mirka DEOS electric orbital sander is compact and very light. The machine is available in two dimensions: the Mirka DEOS 383CV, 2.75″ x 7.75″, is designed mainly for the ART sector and the Mirka DEOS 353CV, 3.2″ x 5.2″, is mainly targeted at the wood and CD sectors.
All you need for easy sanding – Mirka DEOS and Mirka DEROS – these compact brushless electric sanders provide the efficiency of air tools but without the costs and size of the air system.
Save time
Save cleanup time by connecting the sander and abrasives with a dust extractor to use as part of a healthy, dust-free system.
The Compact Sanding line of abrasives, sponges, and accessories can be used with Mirka Air tools as well.
Mirka is consistently providing new innovative solutions cutting-edge products that meet the needs of automotive refinishing industry's constant need for improvements in efficiency, productivity and a cleaner working environment has seen it become one of the world's most trusted brands.
Decades of experience and a strong commitment to product development has seen us become a pioneering specialist in flexible abrasives and revolutionary, patented products which allow customers to enjoy a truly dust-free surface finishing process.
Tags: Mirka sanding, sanding, wood, wood and panel, woodworking, woodworking and manufacturing, woodworking and processing, woodworking event, woodworking industry, woodworking UK