MiCROTEC showcases its best at MOKKITEN Fair
&nbspThursday, October 12, 2023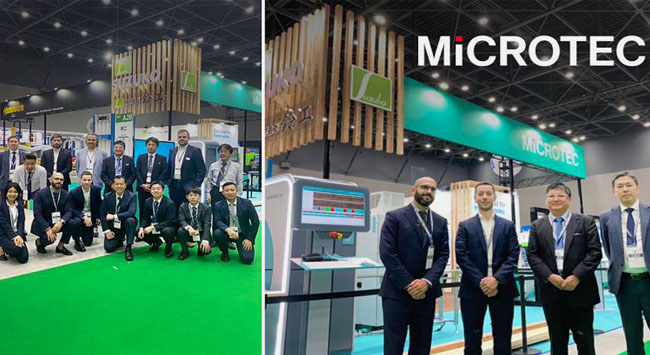 MiCROTEC displayed its best at the 46th MOKKITEN Fair that is one of Japan's largest exhibition of wood machinery. The show that stated from October 5th and ended in October 7, had MiCROTEC who attained the exhibition with their esteemed partner, SUZUKO Co., LTD. They presented a cutting-edge running strength grading line, completed with MiCROTEC's world-renowned strength grading solutions: Goldeneye & Viscan.
The vistors made use of the golden opportunity to witness the company's live scanning for the secondary processing sector in action in Asia. The dedicated MiCROTEC sales manager for Japan, Giacomo Cagnin was on site to communicate with all the visitors to answer all the queries. The company shared the booth with their partner SUZUKO.
With its partnership with OiN, MiCROTEC presented other innovations, proving its presence in the sawmill sector. The MOKKITEN Fair 2023 in Nagoya, Japan not only opened evident scopes for the expansion of the company's business but also encouraged fantastic opportunities for the woodworking enthusiasts and professionals to come in contact with MiCROTEC's world leading wood scanning solutions.
MiCROTEC is one of the global technology and market leader in intelligent wood characteristics detection to maximise recovery for the wood processing industry. Prospective events like MOKKITEN Fair, opens scopes for companies like MiCROTEC to bring its products and solutions before the world to spread its reach. The company made the best use of the event to encourage fresh partnerships, while working in coordination with the other companies to bring out the solutions that will benefit the woodworking industry in a larger scale.
Read more news on MiCROTEC here
Tags: Microtec, Mokkiten Japan 2023, trade show, wood, wood and panel, woodworking, woodworking UK