Leuco magnifies on wood processing at LIGNA.IN
Published on :Monday, October 4, 2021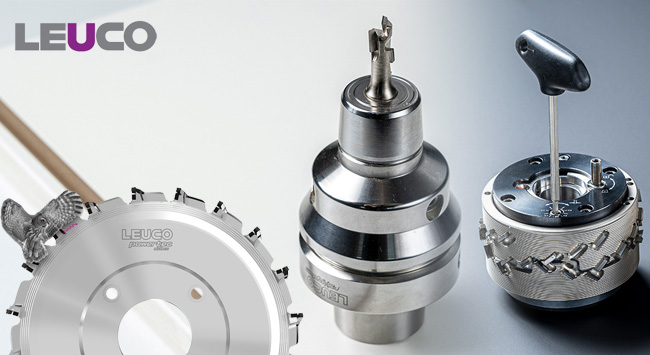 Tooling experts from Leuco showcased a host of innovations recently at LIGNA.IN – with a triad of Expo, Conference and Networking, the LIGNA.Innovation Network experiences a new digital platform for the international woodworking and processing industry from September 27 to 29, 2021.
Leuco presented on various topics included:

The advantages of long toolpaths and the operation of the synchronously adjustable jointing cutter
The benefits of triangular inserts of the LEUCO t3 system when processing solid wood
Circular saw blade DIAREX HR for fiber-reinforced plastics, e.g. GFRP and CFRP with long tool lives
Leuco successfully premiered a variety of tools at the hybrid event and enriched timber construction domain, namely;
Tooling technology


LEUCO t3-System Cutters: The patent-applied-for arrangement of cutting edges of the t3-System cutter allows you an optimal cutting of solid wood. This is achieved by the fact that the turnover knives always move towards the workpiece.


Smart cutting with PowerTec airFace hoggers: Thanks to its high productivity and the very long edge lives, the PowerTec is one of the most successful hogger manufactured by LEUCO. The most recent version in the airFace design has a prolonged tool life.


CNC tools: Nesting solution for solid material: The new nesting shank-type cutter range from LEUCO featuring double-edge tools is a true problem-solver for MDF and multiplex boards. The number of teeth Z=2+2 leads to an increased gullet volume.
Processing of composite materials: Innovative tooling solutions CFRP and GFRP fibers for fiber-reinforced plastics, the so-called composites, are very hard and wearing materials requiring a hard cutting material, preferably diamond.
New developments and trends in Circular saw blades with Panel sizing saws: Dividing laminated panels in best quality is the strength of the carbide-tipped Q-Cut G6 from LEUCO. This saw blade now achieves longer edge lives. The Q-Cut G6 is part of the Q-Cut family.

Tags: Leuco, LIGNA.Innovation Network, saw blades, tools and machinery, woodworking and manufacturing, woodworking event, woodworking tools

Read Magazine Online