Kleiberit had a successful LIGNA.23
&nbspThursday, August 3, 2023
The world's leading trade fair for tools, machines, and woodworking and wood processing in Hannover exceeded all expectations with approx. 80,000 visitors and enriched the Kleiberit booth with large international trade visitors.
At Kleiberit, the focus this year was on further developments for HotCoating, ME-PUR Hotmelts and bio-based adhesives. At the world's leading trade fair, the focus was on topics such as digitalization, networked machines, intelligent automation and end-to-end software solutions. All important providers are at the start in Hannover. As further highlights, the advantages of bonding with our STP adhesive 605.1.20 were presented as TischlerSchreinerDeutschland trained for the World Championships.
Highlights:
Flat lamination and Hotcoating
Visitors experienced the successful Kleiberit HotCoating technology on running lines featuring surface curing with the innovative electron beam process.
Live on a flat lam line, interested visitors gained insight into the processing of KleiberiT ME hotmelt adhesives as well as detailed information on the multifaceted possibilities in the areas of edge and surface bonding and profile wrapping.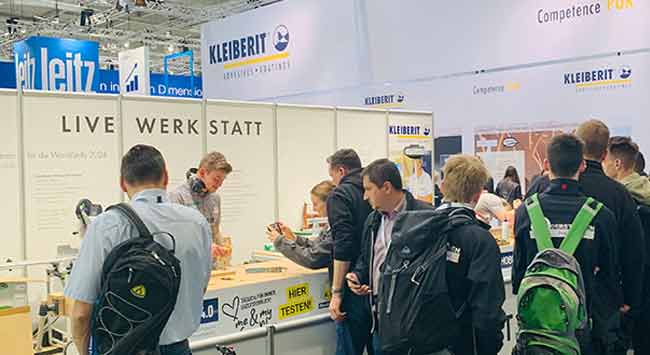 Live workshop- Preparation for the worldskills 2024
At the Kleiberit booth, candidates from the Association of Carpenters and Joiners trained for the Worldskills 2024.
Kleiberit 605.1.20
The universally applicable product is used in industrial and craft applications. Demanding materials and new material combinations require further development of bonding quality and bond strength. Kleiberit 605.1.20 is used for durable, high-quality bonds.
Kleiberit 605.1.20 is a reactive one-component adhesive based on silane-terminated polymers (STP), also known as hybrid adhesive. Its excellent processing properties in terms of flowable viscosity, pressing times and setting speed, stability of the adhesive joint while meeting the highest resistance to water, steam, heat and cold (tested according to DIN EN 204, D4 as well as DIN 14257), make it an absolute all-rounder that no workshop should be without. A real problem solver in trade and industry. Especially worth mentioning is the universal application due to enormous adhesion properties on almost all materials with and among each other, except brass, copper, PP, PE and Teflon. The adhesive is easy to apply with a spatula, brush or roller and does not foam up. Even spot application from the spray bottle is possible due to the favorable viscosity and flowability. For easy cleaning, Kleiberit offers the corresponding Cleaner 823.3.
Tags: ADHESIVE AND COATING, HotCoating, Kleiberit, wood, wood and panel, woodworking, woodworking and manufacturing, woodworking and processing, woodworking event, woodworking industry, woodworking UK