ITTO strengthens partnerships on sustainable tropical forest management in Korea
&nbspMonday, August 21, 2023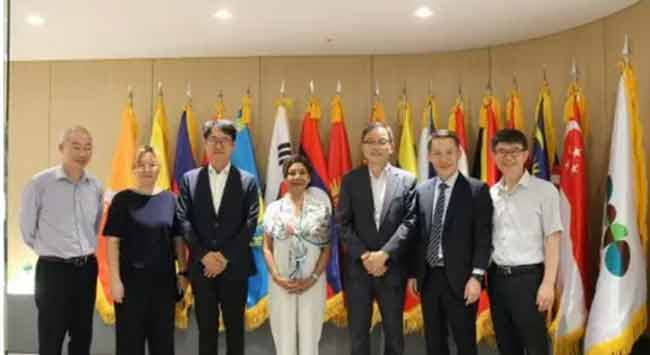 ITTO strengthens partnerships on sustainable tropical forest management in Korea after engaging into a series of meetings in late July.
ITTO Executive Director Sheam Satkuru met with leaders of the Korea Forest Service (KFS), the National Institute of Forest Science (NIFS) and the Asian Forest Cooperation Organization (AFoCO) in a series of meetings in late July with the aim of strengthening cooperation on sustainable tropical forest management, forest landscape restoration and community development.
Mr Lim said he appreciated the close cooperation between the KFS and ITTO since the establishment of a memorandum of understanding between the two organizations. Mr Lim said the KFS is committed to contributing to international cooperation in restoration, drawing on the country's 50 years of experience in this field. He said he was confident about reaching agreement on further collaborative work in the near future.
KFS Director General of International Cooperation, Dr Eunsik Park, shared the Republic of Korea's plans to increase its official development assistance (ODA), in line with the target set by the country's president. He outlined the general procedure for ODA project development, with the 2024 cycle paving the way for project support to begin in 2025.
During a meeting at the AFoCO Secretariat in Seoul, Republic of Korea, on July 26, 2023, Ms Satkuru said the extended memorandum of understanding between both organizations has enabled active cooperation, such as on the convening of forest landscape restoration capacity-building workshops. She emphasized the importance of forests in achieving the Sustainable Development Goals and highlighted the need for sustainable investment and engagement of the private sector. She spoke about the status of ITTO's accreditation application proposal for the Green Climate Fund (GCF) and expressed interest in exploring carbon-credit-sharing mechanisms to support carbon forestry initiatives.
AFoCO Executive Director Dr Chongho Park stressed the significance of strong partnerships in advancing SFM. He revealed AFoCO's commitment to providing livelihood solutions for forest-dependent communities and emphasized the importance of diversifying funding sources for sustained support. He asked to stay updated on ITTO's accreditation application proposal for the GCF.
"The partnerships between ITTO and the KFS, the NIFS and AFoCO in the Republic of Korea presents new opportunities for fostering international cooperation in restoration and community development," said Ms Satkuru after the meetings. "We are all determined to collaborate and achieve our shared goals in conserving and sustainably managing forests and contributing to global efforts to address climate change and achieve the Sustainable Development Goals."
Tags: Asian Forest Cooperation Organization (AFoCO), Forest Service (KFS), ITTO, National Institute of Forest Science (NIFS), Sheam Satkuru, wood, wood and panel, woodworking, woodworking and manufacturing, woodworking and processing, woodworking industry, woodworking UK