ISCC PLUS Certification for Jowat SE
&nbspWednesday, June 28, 2023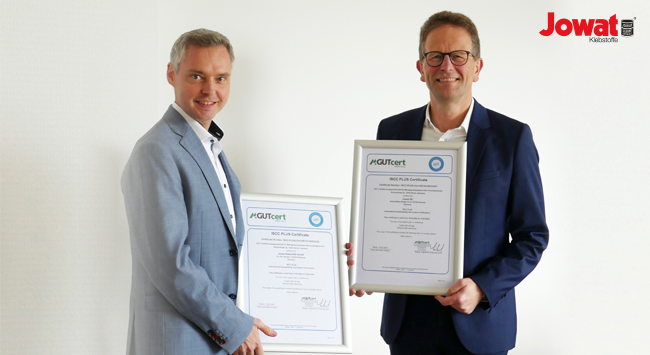 Jowat SE reaches a new height of excellence as it has now been accredited with an ISCC PLUS (International Sustainability and Carbon Certification) certification. The industrial adhesive producing company has earned this for its German manufacturing locations in Detmold and Elsteraue. This particular accreditation is a special one as it permits Jowat to engage its customers in a sustainable value stream via mass balance certificates.
Now, Jowat SE will also supply sustainable variants of its tried-and-true adhesives besides its very popular Green Adhesives. Dr. Christian Terfloth, member of the Board of Directors at Jowat SE acknowledging the importance of this certification sates that, "The first ISCC PLUS certification is an important step for the entire Jowat Group and strengthens our strategy to increase the sustainability of adhesive bonding"
This new certification enables Jowat to follow a mass balance approach to produce sustainable adhesives. The mass balance approach follows a particular route where the bio based or recycled feed stocks are added early in the production process of raw materials and then allocated to the finished adhesives based on calculation. This helps to maintain the quality of the adhesives while conserving the fossil raw materials. There need not be any change in the tried and trusted formulations, machines and processes involved.
Dr. Christian Terfloth also states "The mass balance approach provides a great opportunity for the chemical industry. It enables us to actively and successfully take part in the European Green Deal." The internationally recognized ISCC certifies the sustainability of biomass and bio-energy. This standard certification covers all stages of value chain and is widely used all around the world. This new certification leaves Jowat all inspired while it sets fresh goal. The company will ensure and will keep a check to see that at least 80% of its production meets the strict sustainability criteria by 2025.
Tags: Jowat SE, wood, wood and panel, woodworking, woodworking and manufacturing, woodworking and processing, woodworking industry, woodworking UK