HOMAG Treff brings latest solutions to the industry
&nbspFriday, September 23, 2022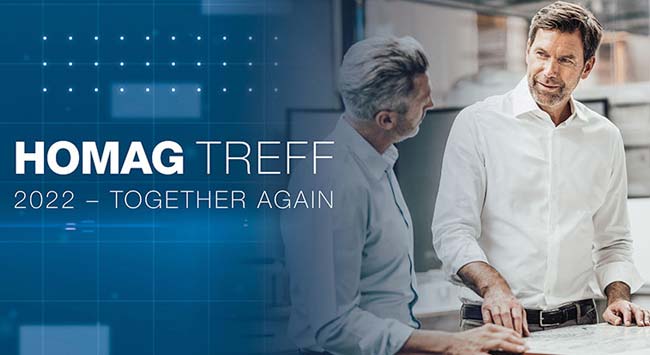 One of the most awaited events, HOMAG Treff is getting ready to introduce latest innovative solutions to the woodworking and manufacturing industry. Slated from September 27 and will continue till October 1, will enrich the wood processing. For three decades now, HOMAG has been using the HOMAG Treff as a platform for presenting innovative solutions for first-class craftsmanship and state-of-the-art industry: from small and large machines through fully automated workshops to entire production plants. The overall concept lives on flexibility — everything is possible, nothing is obligatory. At the same time, HOMAG is constantly working on consulting services, the Service side of business, developing new digital assistants and optimising existing ones — so that woodworking becomes even more efficient.
Over five days, interested parties can visit the plant, get inspiration from machine demonstrations and get to know the latest products.
Among other things, HOMAG this year will showcase their new CNC space miracle, the DRILLTEQ V-310, the latest warehouse operating software and great apps that provide great help with any saw or edge with a small investment.
HOMAG Treff will soon begin at Holzbronn, and offer an array of solutions to the industry.
The DRILLTEQ V-310 draws plenty of attention. The CNC space-saving masterpiece trims, drills, grooves and dowels in a space of just 11 m2, making the machine the first of its kind worldwide. This means it's in the best company — because the CENTATEQ N-510 also scores points with a completely new modular nesting system. Speaking of nesting: as material savings and component labeling are also important topics in the entry-level segment, the Nesting Production Set is also a popular digital solution. Other software products that simplify production processes significantly are woodWOP 8.0, woodCommander 5 and productionManager. The range is rounded off by additional machine components, numerous service offers and consulting options.
Highlights:
Experience entire production cells live in operation – supported by our software solutions for the entire manufacturing process.
Project simulations: Discover which of the presented solutions will advance your workshop.
Exciting specialist lectures on current topics
Tags: CNC, DRILLTEQ V-310, Homag Treff, Innovations, wood, wood and panel, woodworking and manufacturing, woodworking industry, Woodworking solutions