HOMAG experienced big reunion at HOLZ-HANDWERK
&nbspFriday, July 29, 2022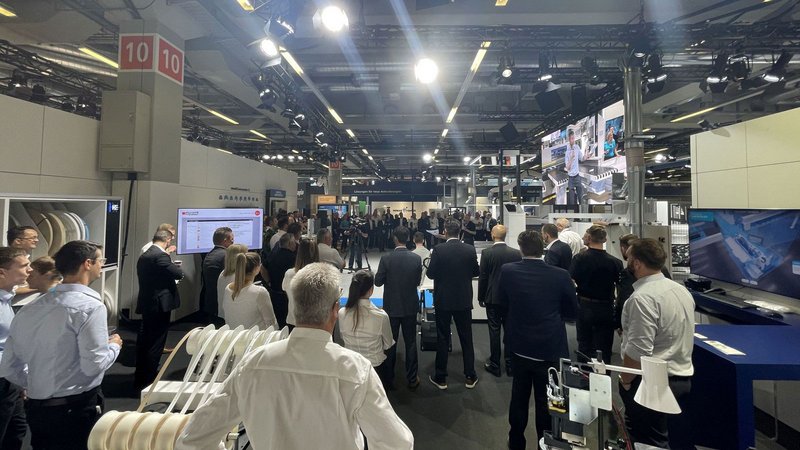 HOMAG witnessed an impressive response at the HOLZ-HANDWERK 2022 in Nuremberg. "A total of 28,500 visitors from more than 100 countries attended the combined HOLZ-HANDWERK and FENSTERBAU FRONTALE exhibition. As expected, the attendance was lower than at the last trade fair in 2018, but we had high-quality contacts and discussions at the HOMAG booth."
"On 1,700 sqm of booth space, we presented a balanced cross-section of our product portfolio, live stage shows, touchpoints as well as genuine world premieres. We showed what modern workshops need: efficient machines and digital solutions that enable both automated furniture production and the manufacture of individual components. In addition to new products such as the DRILLTEQ V-310 or the CENTATEQ N-210, which were shown live for the first time, we also used opportunities for product presentation afforded by digital technology."
One of our highlights was the hybrid product presentation of the virtual warehouse using the SAWTEQ B-300. Thanks to iVP (Intelligent Virtual Planning), we designed the warehouse 1:1 on the screen. iVP was also used to demonstrate the digital twin of the DRILLTEQ V-310. In both cases, visitors were able to experience virtual three-dimensional copies of the product, both on the touch display, on VR (Virtual Reality) glasses or directly on their smartphones. They could then make the comparison to the physical machine a few meters away – a hybrid success model that will be remembered.
"Praise to the entire HOMAG Group as well. Your exhibition stand was the highlight of this year's trade fair for us. Such an extensive trade fair program including the large number of machines and systems on display was very impressive. I hope that you will stick to this trade fair concept." Maik Terhürne, Strategic Projects and Production Processes, hülsta-werke.
Digital solutions are in demand
Interest in digital solutions, whether for series production or craftspeople, continues to grow significantly. On the one hand, we noticed this at the stations where we presented machine-related software such as woodWOP 8 and woodStore 8 or digital assistants such as ServiceBoard, ServiceAssist and the new digital job folder productionManager.
Tags: 2022, DRILLTEQ V-310, germany, HOLZ-HANDWERK, Nuremberg, wood, wood and panel, woodworking and manufacturing, woodworking event, woodworking industry