EUMABOIS and HOLZ-HANDWERK 2024 cooperation agreement renewed
&nbspThursday, July 20, 2023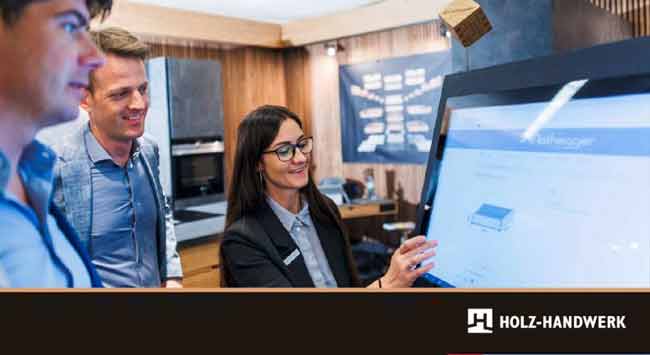 EUMABOIS is delighted to announce that their collaboration with HOLZ-HANDWERK continues and that cooperation agreement for 2024 edition has been renewed. HOLZ-HANDWERK 2024 in Nuremberg, will once again return to capture latest trends on a wide range of products along the entire woodworking and wood processing value chain.
A success of innovation stands in the collaborative effort between industry, academia, and research, supporting programme of HOLZ-HANDWERK 2024 will strive to address numerous up-to date topics and thus pave the way for the further attractiveness and competitiveness of the woodworking sector.
HOLZ-HANDWERK in Nuremberg, the European Trade Fair for Machine Technology, Equipment and Supplies for the Wood Craft, focuses on processing and working the living material wood. Here you find the latest trends and innovations for the woodworking & wood processing sector – from sawing and grinding machines to woodworking machines or extraction systems. This makes HOLZ-HANDWERK one of the most important events for carpenters and joiners in the European region.
HOLZ-HANDWERK 2024 is returning to Nuremberg, Germany, for another in-person gathering! The European trade fair for machine technology, equipment and supplies for the Wood Crafts will take place for the 20th time at Messe Nuremberg from March 19 to 22, 2024. The exhibition will be accompanied by Fensterbau Frontale 2024, opening even more networking and cross-industry exchange opportunities for all participants.
HOLZ-HANDWERK 2024 will offer an extensive product spectrum that caters to every client and business partner's needs, from abrasives and adhesives to wood-based materials and woodworking machinery. Carpenters, cabinetmakers, joiners, parquet layers and other wood crafts representatives will be present at HOLZ-HANDWERK 2024, featuring and discovering the latest trends, new technologies and practices in the sector.
The trade fair will attract national and international participants with an exciting experience, hosting special shows, demonstrations and competitions that intensify the professional exchange of ideas. HOLZ-HANDWERK 2024 will also be supported by an intensive conference programme, where workshops and presentations by expert speakers will highlight current issues and practical solutions to shape further and expand the woodworking industry profile.
Tags: Eumabois, HOLZ-HANDWERK, Nuremberg, wood, wood and panel, woodworking, woodworking and manufacturing, woodworking and processing, woodworking event, woodworking industry, woodworking UK