Ground breaking abrasive solutions from PolishStyl
&nbspMonday, September 25, 2023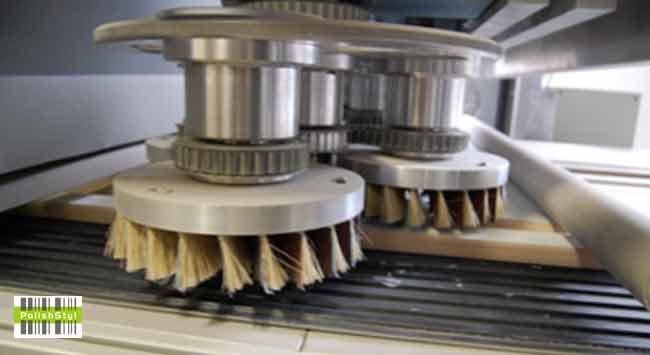 Innovative abrasive brushes from PolishStyl are known for revolutionising the grinding process in thousands of factories in the furniture and wood industries in Poland and abroad. This Poland based company is celebrate for offering absolute sanding solutions by using abrasive brush technology for over 15 years.
Abrasive brushes are grinding tools that optimise the surface finishing process in sanding wood, wood-based materials and paint coatings. Each abrasive brush is composed of a supporting body, i.e. a head, and replaceable abrasive inserts – brushes placed on its circumference, which directly grind the element.
The heads can be made of a light metal alloy or of an appropriately stiff and deformation-resistant plastic. This structure allows you to carry heavy loads during grinding without compromising the durability of the head and machine drive.
Abrasive brushes can be used both in production lines and in individual grinders and hand-held brush grinders.
They are very universal tools and are used both in small carpentry workshops and large factories, significantly reducing the amount of manual work.
An abrasive brush is a flexible tool in which the abrasive material does not crumble, as is the case with too high pressures and allowances when sanding with an abrasive belt – emphasizes CEO of PolishStyl.
Abrasive brushes are perfect for processing not only wooden elements, but also MDF boards, e.g. in the production of foiled fronts, which must be properly sanded before applying glue.
The technology of using abrasive brushes significantly reduces labour costs when grinding elements before and after painting. One brushing machine can replace up to a dozen or so workers performing manual grinding operations.
"PolishStyl, as a manufacturer of both grinding heads and brushes, is able to quickly respond to today's market needs. Through professional advice, we can propose optimal grinding technology.
Thanks to the optimization of the most important parameters of abrasive brushes and high flexibility in the selection of effective grinding technology, it is able to meet the most difficult and unusual challenges when finishing surfaces.
– The success of our technologies did not come out of nowhere – says BogusławSzkutnik. – Our greatest asset is our educated, experienced staff with extensive knowledge in the field of wood surface treatment. Our technicians supervise the everyday problems of grinding and surface finishing in hundreds of furniture and woodworking plants. I would like to emphasize that we provide professional technical advice to all our current and future clients."
Tags: abrasive technology, poland, PolishStyl, wood and panel, woodworking, woodworking and manufacturing, woodworking industry, woodworking UK