Felix Schoeller witnesses the best moment ever
&nbspWednesday, August 23, 2023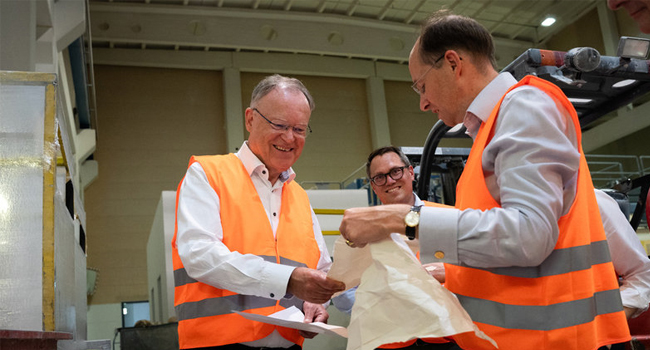 Felix Schoeller has witnessed the best day ever! Recently, Prime Minister Stephan Weil visited their organisation in Osnabrück. At the production plant of Felix Schoeller, CEO Hans-Christoph explained the products of the specialty paper manufacturer.
• Prime Minister Weil finds out about the energy revolution and energy-intensive production in Osnabrück
• CEO Gallenkamp: "Introduction of an industrial electricity price ensures competitiveness"
The Prime Minister of Lower Saxony, Stephan Weil (SPD), visited the Osnabrück specialty paper manufacturer Felix Schoeller. The aim of the visit was to exchange views with CEO Hans-Christoph Gallenkamp on the future of Germany as an industrial location. The topic of energy transition, in particular the use of hydrogen, was also discussed.
The paper industry is increasingly under pressure due to the economic downturn: Demand for products has fallen significantly in recent months, and some companies have recently had to close entire locations. Paper machines are shut down throughout Germany because energy prices are still too high.
During his visit to Osnabrück, Stephan Weil confirmed that he will continue to promote the introduction of an industrial electricity price. Felix Schoeller welcomes the Prime Minister's initiative.
Hans-Christoph Gallenkamp, CEO Felix Schoeller: "We would like to thank Prime Minister Stephan Weil for the trusting and open dialogue. The paper industry needs reliable framework conditions so that industrial production in Germany has a future. The introduction of an industrial electricity price is an important step to ensure our competitiveness in the long term. That is why we very much appreciate that the Prime Minister is positioning himself as a strong supporter."
Stephan Weil, Prime Minister of Lower Saxony: "Paper production is very energy-intensive and the high prices endanger the competitiveness of German companies. Felix Schoeller is one of many examples that shows that we need support for energy-intensive industry. We have to keep the jobs and our economic power."
Felix Schoeller is represented at five locations in Germany. In order to dispense with the use of fossil fuels, the specialty paper manufacturer intends to use hydrogen, among other things. This requires a connection to the hydrogen network. Stephan Weil explained that he wanted to include the Osnabrück region with its energy-intensive industry in the strategic development of the infrastructure.
During his visit to Felix Schoeller, Stephan Weil was accompanied by the Osnabrück SPD deputies Manuela Gava (Member of the Bundestag), Frank Henning (Member of the Landtag) and Tiemo Wölken (Member of the Bundestag).
Tags: CEO, economic power, energy revolution, energy transition, energy-intensive production, Felix Schoeller, fossil fuel, Lower Saxony, Osnabrück, paper industry, paper manufacturer, Prime Minister, Stephen Weil