Dürr and Kawasaki Robotics jointly bring automated painting system
&nbspWednesday, October 11, 2023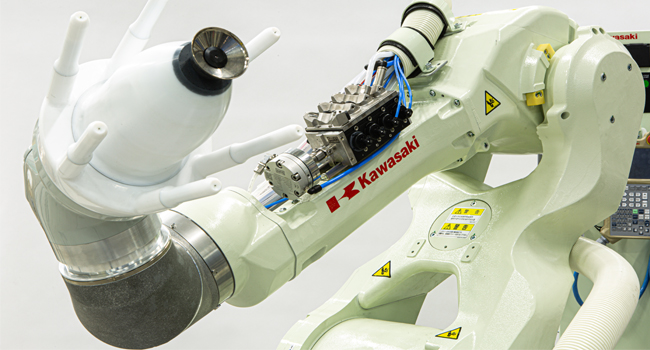 A long-established standard in the woodworking and automotive industry, now in high demand across all industries, is automatic, flexible, and high-quality painting processes. Dürr is aligning its painting technology with robotics solutions for general industry needs. As part of their recent collaboration with Kawasaki Robotics, both partners have electromechanically adapted products from their respective portfolios, simplifying and speeding up the integration of robots and painting equipment into robot-assisted painting systems.
Faster implementation of complete painting solutions in the general industry sector
The "ready2integrate" concept encompasses a range of Dürr products that seamlessly interface with Kawasaki robots. This includes metering pumps, color changers, spray guns, and the EcoBell2. Select Kawasaki robots, such as the RS007L high-speed robot and the new KJ155 painting robot, are compatible with Dürr's established EcoAUC controller. Customers can quickly choose compatible Kawasaki and Dürr products for quick installation and operation with a simple selection matrix. Numerous joint customer projects are currently underway.
"We want to enable a range of businesses to automate their painting processes. Therefore, it is crucial to keep effort and obstacles for integrators and end customers to a minimum," explains Ulrich Tautz, Sales Manager Industrial Products at Dürr. "This is precisely the aim of our ready2integrate concept. It includes the perfect matching of our painting technology with leading industry robotics. Compatible Kawasaki robots and Dürr applications and control technology are the perfect addition to the ready2integrate product range." Ulrich added further.
State-of-the-art technology meets user-friendliness and cost-effectiveness
Marc Kluge, Team Leader Marketing at Kawasaki Robotics, sees great potential in the collaboration: "Dürr is a global market leader for painting technology and the perfect partner for Kawasaki Robotics to combine state-of-the-art solutions and economy. It was great to see how our teams brought their know-how and ideas together, and we are delighted to bring the fruits of our joint labor to the market now."
Tags: cost effective, Global market, robot painting, robotics, spray painting, user friendly