Diverse solutions from NESTRO at LIGNA.23
&nbspWednesday, April 26, 2023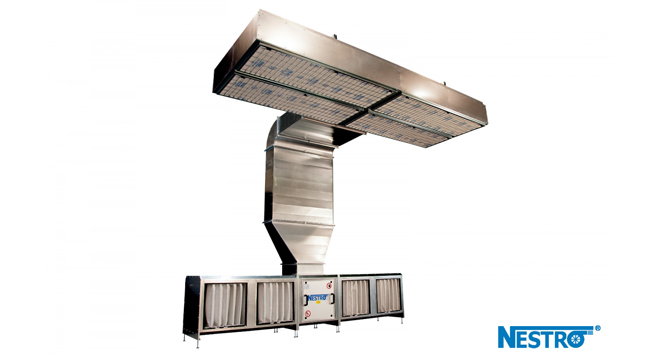 NESTRO Lufttechnik GmbH is presenting itself at this year's LIGNA in Hannover with a new, two-story exhibition stand, at which the company will be demonstrating the majority of their diverse solutions for surface and filter technology in live operation. The company is also delighted to have been commissioned once again to take this opportunity to vacuum the processing machines in the "HOMAG City" on the opposite stand area. In the three areas of dust, chip and paint mist extraction, NESTRO sees itself as one of the market leaders in both the wood industry and the woodworking trade and offers closed system solutions.
NST 75 grinding stand for grinding dust

With an air output of 7,500 cubic meters per hour and a separation rate of up to 95 percent, the NESTRO NST 75 grinding stand is said to ensure dust-free pre- and intermediate grinding. This ensures maximum freedom of movement on a work surface of 4,000 x 3,100 millimeters, even with large processing pieces. Visitors to the trade show booth can sand here themselves and see for themselves how sanding dust produced in the process is effectively bound in the easy-to-clean filter elements by means of a low-turbulence, directed air flow. The recirculating air operation is designed to save the user energy costs and ensure a pleasant, low-draft room climate while complying with workplace regulations.
PAINTLINE system for paint mist

For the highest demands in painting, NESTRO offers the PAINTLINE system in the three performance classes Classic, Comfort and Premium with volume flows from 7,500 up to 24,500 cubic meters per hour in overhead or underfloor design. At its booth, the company will be giving a live demonstration of a paint mist extraction system for an air volume of 7,500 cubic meters per hour as PAINTLINE Classic OF 75 with plate heat exchanger (with artificial theater mist). Since solvents and paints sink to the floor due to their greater density, the paint particles are extracted near the floor as part of a continuous, low-draft air flow to bind them in the filter mats. PAINTLINE systems are designed to permit painting of a consistently high quality even in continuous operation with the simplest possible handling. Each of these systems is individually designed based on the customer's requirements and the spatial conditions – as a modular system, the modules are also scalable if required. Since this year, NESTRO also offers complete booth solutions for installation in factory buildings consisting of HIPERTEC wall and ceiling panels. These sandwich panels have a non-combustible insulating core made of mineral wool and meet even the most stringent fire and sound insulation requirements.
NSJ 9/5-38 4-element intermediate filter

A large part of the processing machines in the "HOMAG City" is extracted by a Jet Intermediate Filter 9/5 with an overall height of almost nine meters, which is also installed at the NESTRO booth. The modular design of this filter system, consisting of individual filter elements – in this case a total of four – is very clearly visible. In practice, the extraction capacity can thus be individually designed for the customer from 4,000 to 150,000 cubic meters per hour. The 9/5-38 design used here has a filter area of 256.8 square meters. Two highly efficient clean gas fans, each with 22 kilowatts of motor power, located at the top of the filter provide a volume flow of up to 40,000 cubic meters per hour. The filter's outstanding visual quality results from the smooth surface due to NESTRO's typical continuous internal edging. The return air is fed back into the exhibition hall, thus relieving the air-conditioning system and improving air quality in the long term (residual dust content less than 0.1 milligrams per cubic meter).
NE 300 J deduster with NBP briquetting press

According to NESTRO, the NE J deduster series is the world's first to be equipped with IE5 synchronous reluctance motor / frequency converter packages. Working closely with ABB AG, the company last year became the first manufacturer to offer dust collectors with permanently frequency-controlled, quieter IE5 motors as standard. The frequency converter ensures that the motor runs at the optimum operating point at all times, in every constellation. Users are said to be able to save up to 22 percent in energy costs with these state-of-the-art units compared to the dust extractors with IE3 motors commonly available on the market.
NSL 60 hogger

The single-shaft flakers of the NSL series from NESTRO are characterized by extremely robust technology. For wood waste in joiner's workshops and in the wood processing industry, the single-shaft technology has established itself on the market. The rotor with its rotatable and exchangeable cutting tools delivers a high shredding performance while using energy economically.
Deduster NE 350 J

In the "HOMAG City" workshop concept area, NESTRO's NE 350 J deduster extracts live dust and chips from typical processing machines for the woodworking trade and temporarily stores the residual material in its three mobile garbage cans. With an operating volume flow of 9,500 cubic meters per hour, the NE 350 J is the powerhouse of the energy-efficient product family.
Tags: deduster, filter, flakers, Homag City, ligna, nestro, paintline, sanding tables, spray rolls