Craft any vision to perfection with Felder KV 925
&nbspThursday, June 8, 2023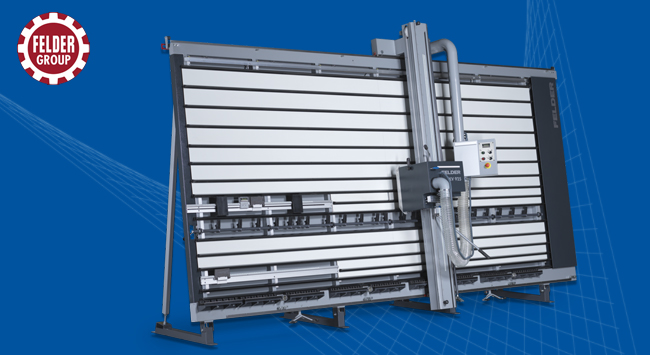 Felder KV 925 panel saw guarantees flawless results every time as one may craft any vision to perfection with the new addition – a must-have tool for workshops. Felder KV 925 panel saw, the newest addition wows with its precise cuts and sleek design to any woodworking enthusiast looking to take the craft to the next level, this tool is perfect for any user. Its top-class quality guarantees flawless results every time.
Felder KV 925 – Top class features for the entry-level
Robust, compact, precise – the vertical Felder beam saw guarantees highest precision, efficiency and productivity on the smallest of footprints. Easy operation, powerful and up to 2 ²³/₆₄" (60 mm) cutting depth guarantee a wide range of applications of the vertical beam saw in any workshop. With numerous premium equipment features, such as the status display, the automatically deflecting support grid, or the pneumatic locking of the saw carriage, you get top-class Felder operating comfort at an exceptionally competitive price.
In order to cover the wide range of applications of vertical beam saws, we offer the FELDER KV 925 in the following sizes:
KV 925 S: 1600 x 2500 mm
KV 925 M: 1900 x 3200 mm
KV 925 L: 2200 x 4200 mm
KV 925 XL: 2200 x 5300 mm
The most important highlights at a glance
LED Status Display
Saw Unit
TRK Dust Extraction
Automatic movable back wall
Benefits
The right machine for every budget
Complete reliability in professional use
Tailor made machine solutions
High quality cast iron machine table and aggregates
Innovative detail solutions derived from 60 years of experience – already included in the standard configuration
First class manufacturing and finishing standards
Intuitive application concepts
Modern, distinct design
Quality and precision from Austria
Powerful and efficient
Complete package: Comprehensive service support
Tags: felder, panel saw, wood, wood and panel, woodworking, woodworking and manufacturing, woodworking and processing, woodworking industry, woodworking UK