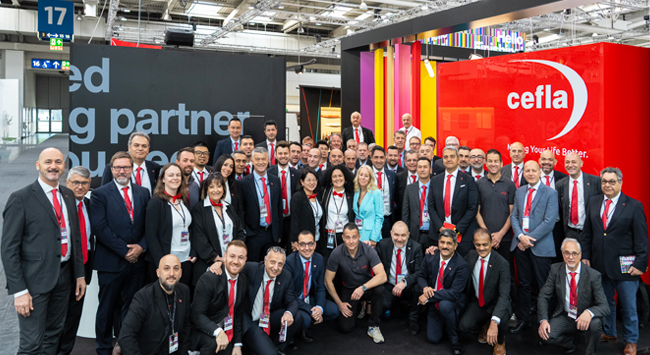 As LIGNA 2023 draws to a close at the Hannover Exhibition Grounds, it is time to assess the impact Cefla Finishing has had on the wood finishing sector over the last few days. The company brought a series of key innovations to the trade show, transforming the booth into a laboratory-like stand, where visitors were able to discover the technologies first-hand, watching the lines process different materials, and examining the finished pieces.
Hundreds of curious visitors each day
The idea to demonstrate the technologies live on the Cefla Finishing booth in Hall 17 was a winner. It attracted hundreds of visitors each day who were able to witness 5 fully functioning finishing lines, processing panels with a line-up of innovative solutions. Cefla Finishing gathered and recorded so many contacts, from all over the World, showing a keen interest to integrate these recent innovations into an existing line, to improve performance and efficiency, or as part of a new line, custom-built to reach their targets. With 60 years' experience, 300 active patents and around 15,000 machines installed worldwide, the company has significant experience in designing and developing full lines, as well as specific machines, for the several industries.
Recap of the innovations presented at LIGNA
Cefla Finishing develops new technologies to address the frequent issues a customer faces, especially as the market evolves and trends change as well as the demands made on finishing companies by end-users or furniture manufacturers, to name just one key player. Practical solutions have become a top priority. Sustainable solutions, increased production efficiency, less downtime, more flexibility.
Applied to the Easy spray coater, Cefla showcased FCS (Fast Colour Switch) a new technology to implement colour changeovers without stopping production. This reduces downtime by approx. 45-60 minutes/day, by limiting the changeover time to a mere 10 seconds compared to the standard 2 to 3 minutes needed.
Another time-saver, consequently a money-spinner, iBotic featured the new TIMESKIP device enabling on- the-go colour changeovers. While one arm continues to spray the pieces, the other arm shifts to a segregated zone to change lacquer. Zero downtime. The same working line at the trade show incorporated Exydry-Z, the company's excimer matting oven for raised panels and below-five gloss finishes.
Pioneering vacuum coating technologies, Cefla showcased Smartvacuum and Smartedge, two innovative machines using the same technique to obtain the perfect match between a panel surface and the same panel's edge.
Cefla's profile wrapping brand Düspohl presented machines optimised to reduce set-up times, simplify handling and minimise downtime. Focusing on smart solutions that positively impact efficiency and output, Düspohl offers a wide variety of extra optional solutions for special applications or for automation purposes, the degree of which is scalable, depending on customer demands and project requirements.
As for the use of IoT and Industry 4.0 solutions, here Cefla demonstrates the many ways to monitor and control production, even remotely with just a web connection. Suitable for hybrid lines integrating Cefla solutions and third party machines, these tools help customers achieve efficiency, reliability, predictability, and include simulation capabilities before line configuration is terminated in the planning phase.

For more information of the technologies shown at Ligna or to run personalised tests at one of the 3 finishing laboratories housed in Italy, China and the USA visit our new web site www.ceflafinishing.com