Baumer presents the flattest inductive sensor ever
&nbspFriday, June 23, 2023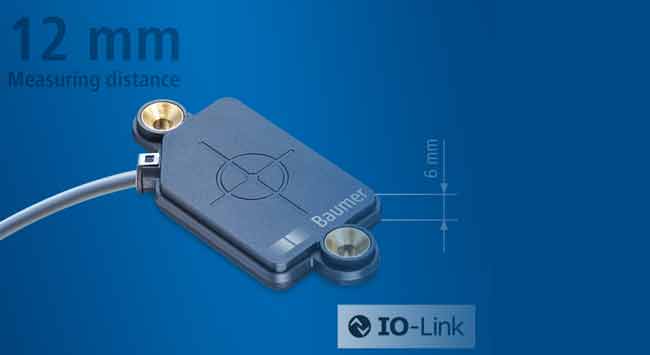 Baumer presents the flattest inductive sensor ever with 12 mm switching distance.
Maximum design freedom for reliable object detection: With new IF250, Baumer presents an extremely flat inductive sensor with yet a large switching distance. Despite the very flat design of only 6 mm, IF250 will detect objects at a distance of up to 12 mm. Such performance is unrivalled in this housing class and opens up new application fields where standard cylindrical sensors will not fit because of limited installation space.
Ideal where space is a constraint
"Further to our miniaturized sensors, we now offer a variant with extremely long switching distance for applications with limited installation space," says Product Manager Silvio Sprenger. New IF250 ideally complements the Baumer portfolio of high-performance inductive sensors in a compact design, from cylindrical subminiature sensors (3 mm diameter) up to M30 designs with max. 24 mm switching distance.
Maximized safety reserves
Another benefit of the flat design are maximum safety reserves: The inductive sensor allows for long-distant safety installation towards the object and hence is optimally protected even in critical applications.
Thanks to the compact design, IF250 is not only perfect for new installations but also for retrofit in existing plants where initially sensors had not been intended. Metal sleeves instead of fragile ones made of plastic and the mounting kit for easy pipe attachment ensure secure and robust sensor mount.
Both as a switching and measuring variant
IF250 is available as proximity switch with industry-standard PNP or NPN output or as a measuring variant with digital IO-Link interface. Digital transmission provides the benefit of making shielded cables and high-resolution A/D converter card superfluous in precise distance measurements. Easy parameterization via IO-Link, comprehensive diagnostic data such as histograms, temperature or switching cycles are even more product benefits.
The ultra-flat IF250 adds a high-performance sensor solution for very limited installation space to the Baumer toolbox. Besides tasks in assembly & handling (e.g. metal carrier detection), lifts and doors are target applications.
Tags: Baumer, wood, wood and panel, woodworking, woodworking and manufacturing, woodworking and processing, woodworking industry, woodworking UK