Another addition to Mirka Dust Extractor range
&nbspWednesday, August 23, 2023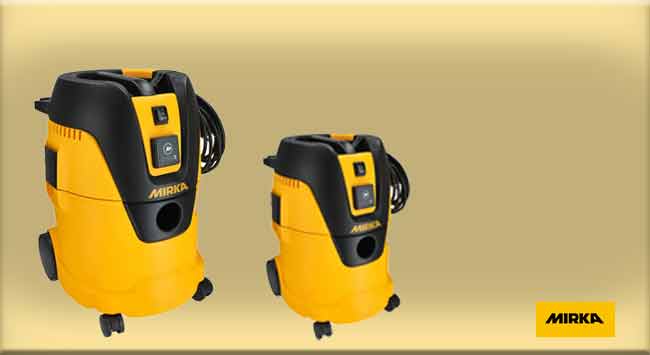 The wide range of Mirka dust extractors is expanded further as Mirka introduces the new, fully antistatic DE 1125 L model. The DE 1125 L is classified as an L-Class dust extractor.
As well as an antistatic capability, the new DE 1125 L adds a more powerful 1200w motor to improve dust extraction and usability. The compact size, easy portability and visual appearance of the DE 1125 L are familiar to users of the DE 1025 L model, with increased power. The Mirka DE 1125 L is suitable for wet use as well as dry use, when the dust bag is removed. It also features convenient Auto-Start and Push & Clean filter cleaning functions. The dust container volume is 25 litres.
A Mirka dust extractor is an essential part of Mirka's dust-free solution, which comprises everything from on-tool dust extraction to suitable abrasives, including the Mirka Abranet net abrasives that remove dust from the whole cutting surface. Using Mirka's dust-free sanding means dust is safely deposited in the dust extractor instead of the workspace air, reducing occupational risks for the operator. The complete range of Mirka dust extractors includes the DE 1025 L, the newly introduced DE 1125 L as well as the M-class dust extractors DE 1230 M and DE 1242 M.
There are numerous benefits to using dust-free solutions in sanding, beginning from improving the workplace air to reaching a better finishing quality. Read more about Mirka's dust-free commitment to better occupational health and a better workplace.
Other prominent Mirka duster preferences:
Mirka dust extractors are M or L Class.
L Class (Light): Occupational exposure limit value > 1 mg/m3. Filters 99% of all extracted dust.
Suitable Mirka dust extractors: DE 1025 L, DE 1125 L, DE 1230 L
M Class (Medium): Occupational exposure limit value > 0.1 mg/m3 as well as exposure to wood dust. Filters 99.95% of all extracted dust.
Suitable Mirka dust extractors: DE 1230 M, DE 1242 M
In addition, Mirka offers a HEPA filter for the DE 1230 M and DE 1242 M dust extractors.
Tags: dust extractor, Mirka, wood, wood and panel, woodworking and manufacturing, woodworking and processing, woodworking event, woodworking industry, woodworking UK