Akzonobel innovations inspire by rhythms of nature
&nbspFriday, March 17, 2023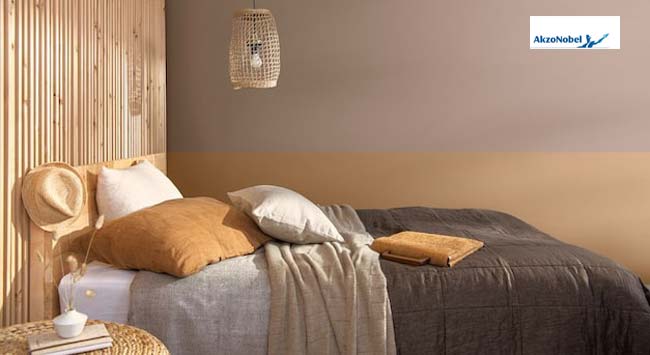 Inspired by the warm hues of rhythms of nature, Akzonobel selects Wild Wonder as the Colour of the year 2023 to play wonders in interior. The Colour of the Year 2023, Wild Wonder is inspiring, creative and calm on mind and this year Akzonobel confirms to create wonders with the natural hue.
Nature gives life to the Colour of the Year 2023, Wild Wonder. Its upbeat glow is inspired by the warm tones of harvest crops. To reflect the mood of the moment in colour,
this colour specialist invite top international design experts to come together in identifying global trends. According to Akzonobel's latest research, people are really re-evaluating their relationship with nature, discovering the natural environment as the source of everything in their lives.
"Wild Wonder and its supporting palettes will bring a sense of energy and positivity into homes all over the world – do try this at home. We've gathered some ideas and inspiration to help you imagine an exciting new look."
"Wild Wonder helps us feel better in our homes by connecting us with the natural world. See how you can use the Color of the Year in your spaces and combine beautiful shades from our ready-made color palettes for a personalized look."
Lush Colors
The forest hues
This color palette is inspired by plant-filled habitats: gardens, forests and woodlands. It's a soothing palette that gives a comforting, familiar and supportive feel.
Raw Colors
The harvest shades
Nature's raw materials are the inspiration for this color palette. Reflecting the richness of natural resources and designs, the shades bring a sense of creativity and potential.
Buzz Colors
The meadow brights
This color palette is inspired by the bustling biodiversity of a wildflower field or grassland. The upbeat collection adds joy and harmony, celebrating what it means to work together.
Flow Colors
The seashore tones
Full of soft whites and light neutrals, this palette can create the perfect blank canvas. Fresh and unifying shades help make a home that's ready for anything.
"Wild Wonder speaks to us in a language we instinctively understand. Nature is what inspires us and makes us feel better in our lives and in our homes. That's why, for the first time in 20 years, our entire color palette is inspired by the rhythms of nature,"mentioned Heleen van Gent, Creative Director, AkzoNobel's Aesthetic Center
Tags: AkzoNobel, coating, wood and panel, woodworking, woodworking and manufacturing, woodworking industry, woodworking UK