Accsys introduces Accoya Color in the UK
&nbspWednesday, November 15, 2023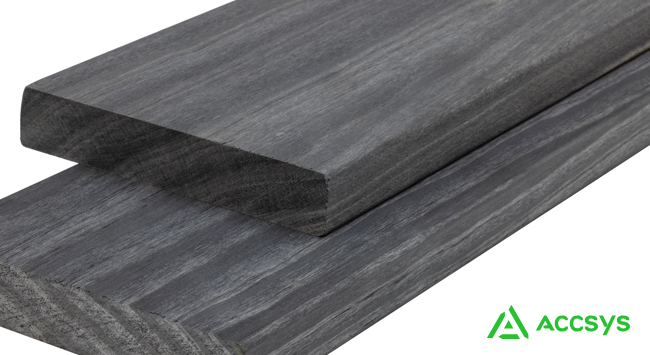 Accsys, one of the well known producer of high performance wood products is further expanding its reach in Europe with the introduction of its revolutionary product in the European market. Accsys' coloured-to-the-core wood product, Accoya Color, will be now available in the UK. This product is perfect for cladding and decking will now enter the European market initiating the company's growth.
Accoya Color brings all the high performance and sustainability benefits of Accoya wood in a stunning grey colour. It is a highly stable product and this is the reason for which it can be considered to be a perfect raw material for the decking boards and cladding profiles. As it is coloured through to the core, the grey colour cannot flake or wear off. This characteristic of the product makes it long lasting and low maintenance. The use of Accoya Color is cost effective as there is no need for coating or ant treatments in the longer run. Like Accoya, Accoya Color is non-toxic. It is one of the few products to be Cradle to Cradle certified for its circular economy benefits.
The expansion of Accoya Color to the UK market follows successful growth worldwide. Since its launch in 2021, in the DACH region and subsequent release in N. America, and France, Accoya Color has been specified by many leading architects and project designers, with proven success in hundreds of decking, cladding and louvre projects.
Highlighting the benefits of this fresh change, Justin Peckham, Head of Sales UK & Ireland, Accsys commented: "I'm so excited to bring the benefits of Accoya Color to our UK customers. Coloured throughout, it is a phenomenal product offering a premium look and feel that lasts. It combines all the high performance and sustainability benefits of Accoya with a gorgeous grey colour. It has proven extremely popular for decking, given its durability, protection from scuff marks and low maintenance. For the same reasons, we are also seeing it increasingly specified for cladding. As the trend towards outdoor living continues to grow, we see huge potential for Accoya Color."
Read more news on Accsys here
Tags: Accoya wood, Accsys Technologies, wood, wood and panel, woodworking, woodworking UK